180W Lapidary Cabbing Machine Stone Gemstone Grinding Machine Jewelry Making Cabochon Machine
NO.:
JWSM001895

5 reviews
|
Write a review
Latest price:
$2098.50
Buy It Now:
$1399.00
180W Lapidary Cabbing Machine Stone Gemstone Grinding Machine Jewelry Making Cabochon Machine
Features:
Powerful Performance: The cabbing machine comes with a powerful 2hp, 1800rpm, 110v direct drive motor, featuring quiet and smooth running. It can create cabochons for necklaces, earrings, rings, and other jewelry pieces or polish crafts such as ceramic crafts, metal pendants, wood products, etc.
Flexible Wheels: Features six 6" diameter diamond wheels with different roughness and one diamond lap that complete the entire rough-to-polish process. Lapidary equipment is suitable for processing hard and brittle materials with additional grinding requirements.
Adjustable Water System: The water system is unique and allows you to control the water output on the wheels independently. You can always use adequate water while using the flat lapidary machine to avoid running the wheels dry.
Compact Design: The electromagnetic switch device will avoid overcurrent while using the gem faceting machine. The adjustable lamp on the top can provide additional light for you. In addition, your fingerprint won't be left on the 304 stainless steel case.
Application: Our cabochon machine has the function of grinding and polishing. It is perfect for grinding and polishing precious ornaments such as gems and jade, various artificial crystals, glass crafts, or small crafts such as ceramic crafts, metal pendants, wood products, etc.


Specifications:
Model: JH-6P
Speed: 1800 rpm
Power Source: Ac
Voltage: 110 V
Power: 180 W
Material: Stainless Steel, Plastic
Length: 29.5 in / 75 cm
Width: 16.7 in / 42.5 cm
Height: 14.4 in / 36.5 cm
Weight: 66 lbs / 30 kg;


Package:
1 x Cabbing Machine
5 x Dop Sticks
1 x Red Dop Wax
1 x Dop Wax Melting Furnace
1 x Water Pump
2 x Drip Pan Tubings
1 x User Guide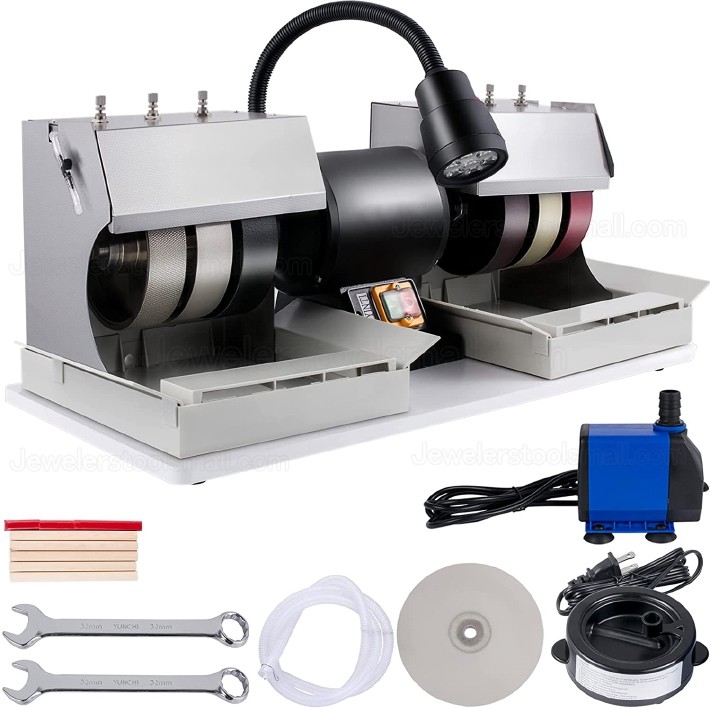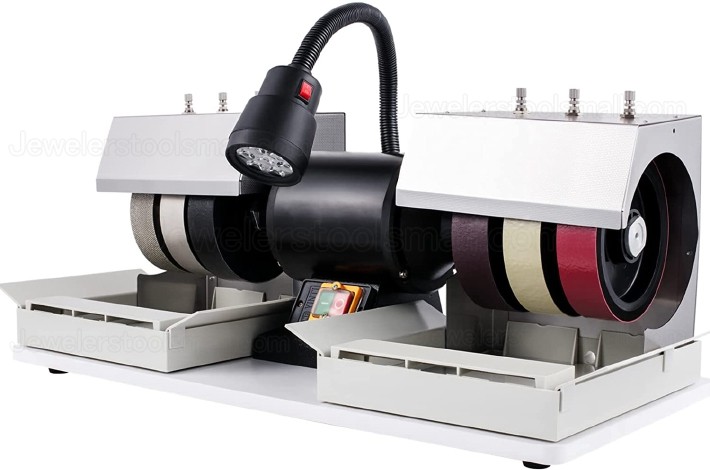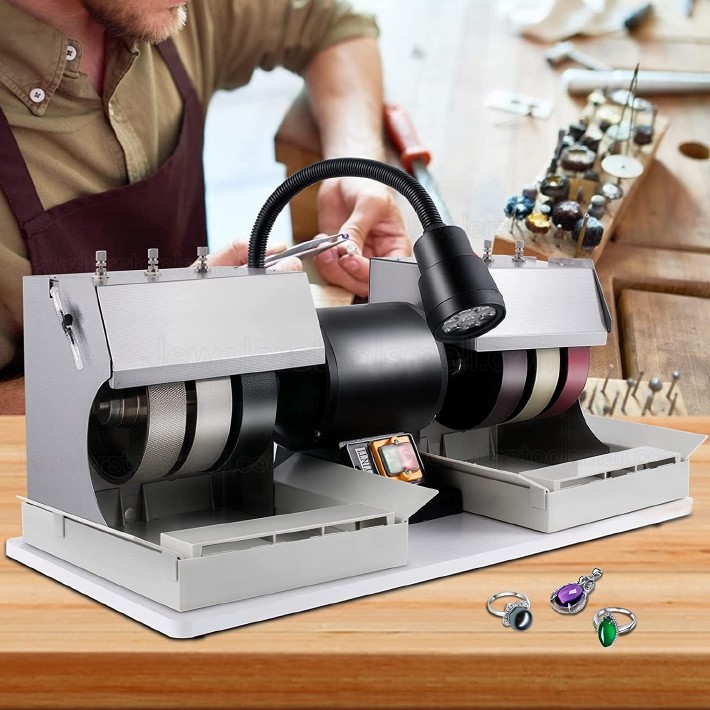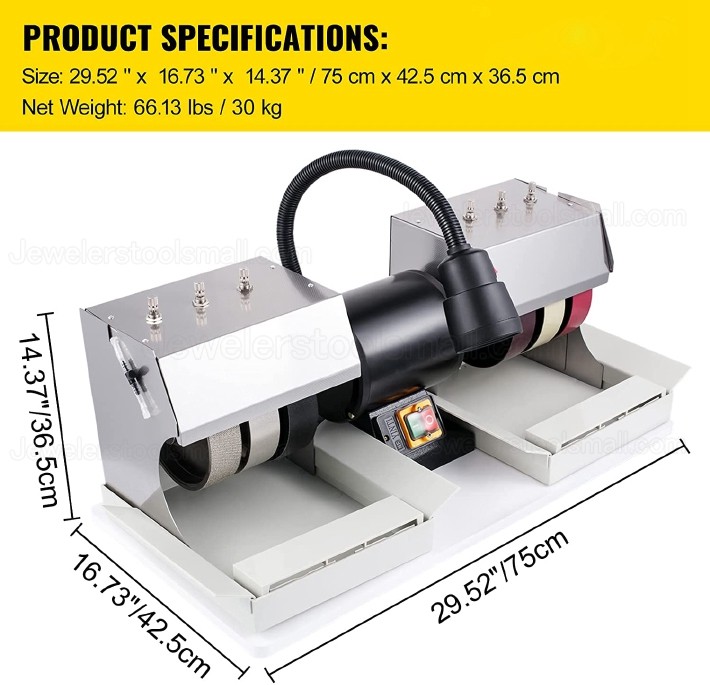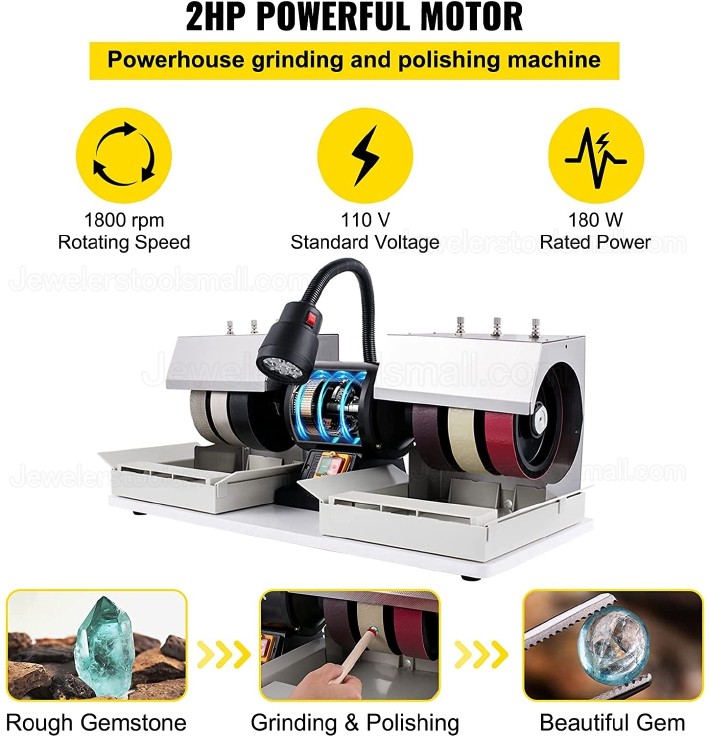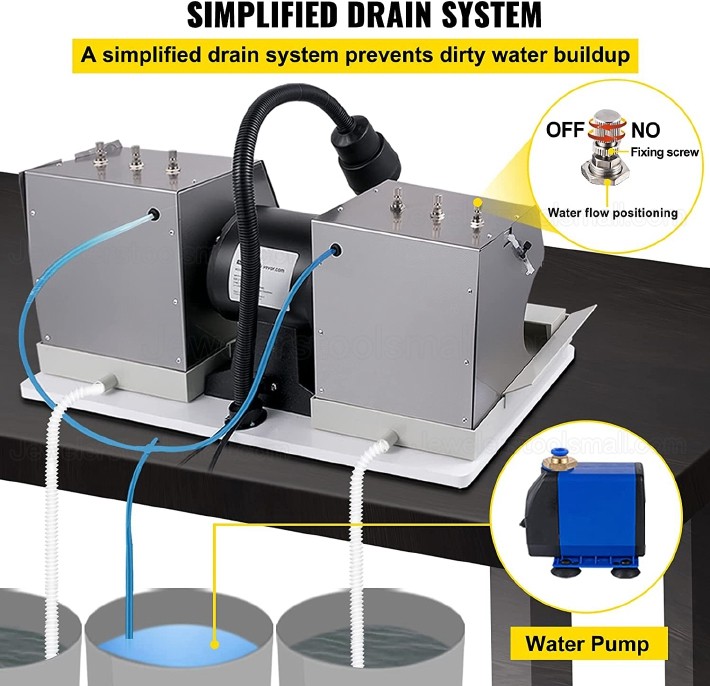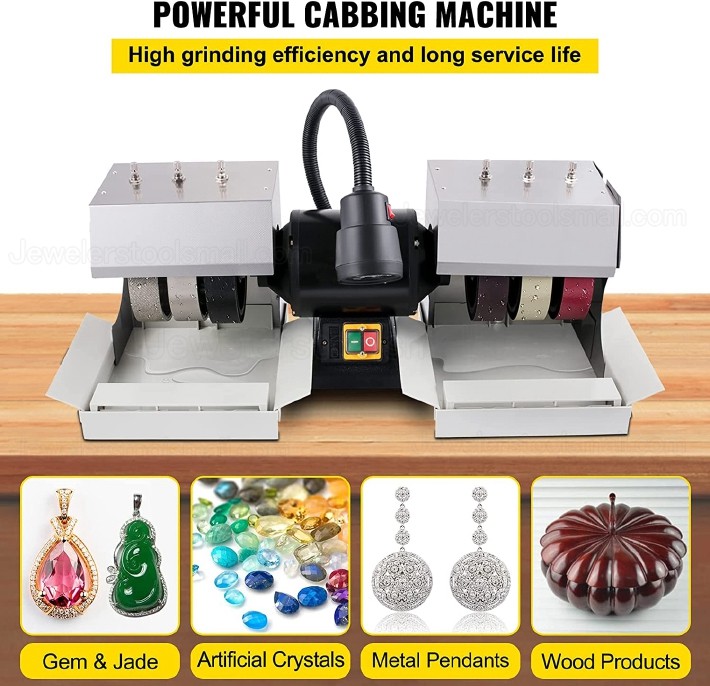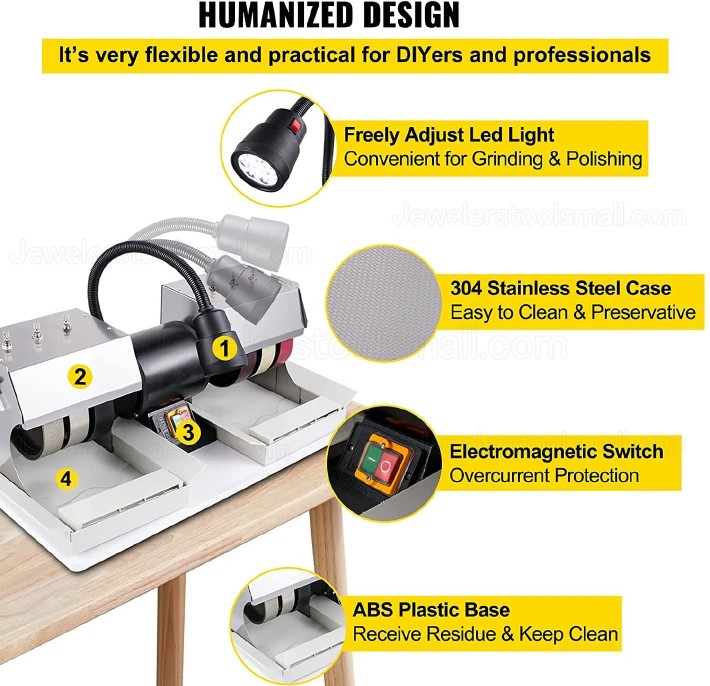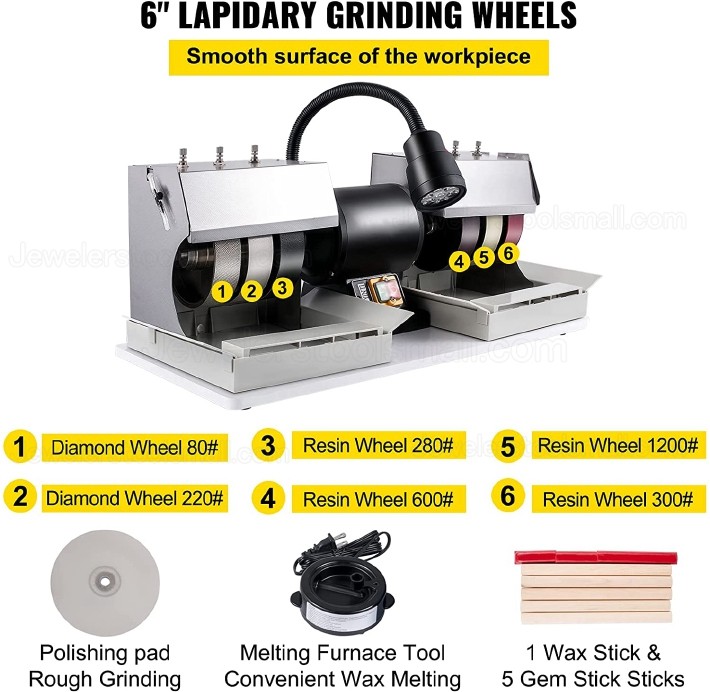 Jewelerstoolsmall.com supplies high-quality jewelry making tools for small and medium jewelers, goldsmiths, jewelry designers, refurbishers, jewellery repairers or hobbyists with fast global shipping and affordable price. If you have any questions or need help, please don't hesitate to contact us.
Roshini – 14 Jul 2022



Worked great on numerous pieces of jewelry. One thing that the directions that come with the unit is the need to degas the water prior to starting a cleaning cycle. This means that after you put hot tap water into the unit and any cleaner sach as a little dish soap, you should run the unit for enough time that some air bubbles exit the water and then a slight turbulence begins. This removes any air that is in the water which hampers the cleaning action.
Tammy – 05 Jul 2022



Exactly as described. Works perfectly after a little bit of some simple assembly of the water system and two wheels.. absolutely love it.
Mike Kitsko – 28 Mar 2022



Super fast shipping! Excellent service! Highly recommended!!
E. Deutsch – 28 Mar 2022



Excellent quality goods and fast delivery. Recommended
Medina Brenneman – 07 Mar 2022



This machine is impressive. It's quiet and not intimidating at all. Being an amateur I expected my first cab to look like something made by a 4 year old but it came out beautiful. The water system is easy to use. Just follow the directions and you can't go wrong. There are some nice You tube videos featuring Cab King. They will help you through the process. Highly recommend.