Pneumatic Jewelry Engraving Machine Double Ended Jewellery Engraver Impact Graver Handpiece Micro Engraver for Gold Silver
NO.:
JWSM001069

4 reviews
|
Write a review
Latest price:
$547.50
Buy It Now:
$365.00
Pneumatic Jewelry Engraving Machine Double Ended Jewellery Engraver Impact Graver Handpiece Micro Engraver for Gold Silver
Features:
Precise & Adjustable Gauge:
The pneumatic engraver features 1400 strokes per minute, a throttle bias adjustment valve for tailoring throttle response; a precise air regulator.

Portable Design:
Portable and compact, made of durable material; the manual engraver pneumatic machine is easy to move and work in different places with compact and light-weight design.

Simple Control Panel:
Adopting user-friendly keyboard design & reasonable layout, easy to operate, intuitive & clear. The foot pedal is convenient for precise control.

Multiple Applications:
Pneumatic hand engraving machines are suitable for jewelry, crafts, wrought iron & other industries and can be regarded as a good helper for engravers.
Specifications :
Voltage : 110/220V (Please contact us before you place order if you need 110V )
Power : 80W
Speed: 10 to 1,400 rev / min
Air pressure : 0 ~ 3KG/CM2
Pressure Output: pulsating output ( switchable ) 2 of 4mm Interface;
1 of 6mm Interface
A throttle output : 1 of 6mm interface
Total weight : 7KG
Package Content:
1 x Jewellery Engraver Machine
1 x Foot Pedal
1 x Pneumatic Graver Handpiece
1 x Connecting Pipe
1 x English Manual
Apllication:
1.With a Graver single ended impact handpiece, you can raise beads and bright cut jewelry with 80% less effort than by hand.
2.You can hammer set bezels and channels without breaking stones. Graver Mate gives you enough power to deeply engrave gun and knife steel plus fine control for delicate work in gold and silver.
3.In wood, you can easily carve even hardwoods across grain.
There's power to quickly texture many materials in jewelry and artistic applications.
4.With an ultra high-speed rotary handpiece, Graver single ended gives you dozens of additional opportunities for your work.
5. Used by professionals, Graver Mate is a serious tool that lasts for years. Equally important, it helps beginners achieve success.
6. With this tool you can beautifully engrave even tough gun steel with ease.
Installation:
1: connect foot switch with interface on the panel of graver
2 : Insert compressor outlet pipe into the air intake on the back of the engraving machine.We recommend to install Gate valve and watershed filter between the piping of compressor and engraving machine to improve machine performance.
Operation:
1: The first step is to turn off the pressure adjustment knob and rotate handle switch, to avoid too much pressure damaging the pressure relief valve and pressure counter.
2 : connect power, turn on the power switch. ( indicator Lights )
3 :Set the switch in position 1 or 2
4 : Adjust the air pressure and speed , hand carved handle, foot switch pedal action to the maximum , slowly adjust the pressure knob. Pressure gauge indicates 1.5 ~ 2KG/CM2, while adjusting the speed dial , both with regulating the use of carved handle the biggest impact , press the pressure adjustment knob.
5 : Relax foot switch, carved handle stopped working.
6: To switch the carved handle , turn the handle set with the switch of 1 or 2 andposition( make it in the proper position)
7 : If you need to work with the rotary engraving handle , please turn off the power switch , turn the rotary switch handle , adjust the pressure knob.
8 : When working with foot switch, you can control the impact from small to big with opening.
Maintenance:
1.An engraving machine after a period of use , the machine should be put back in the valve cup to be drained .
2 add 10# machine oil in two of the sculpture handle
3 If there is defect , please do not blindly disassemble it, and mail to us to request solution .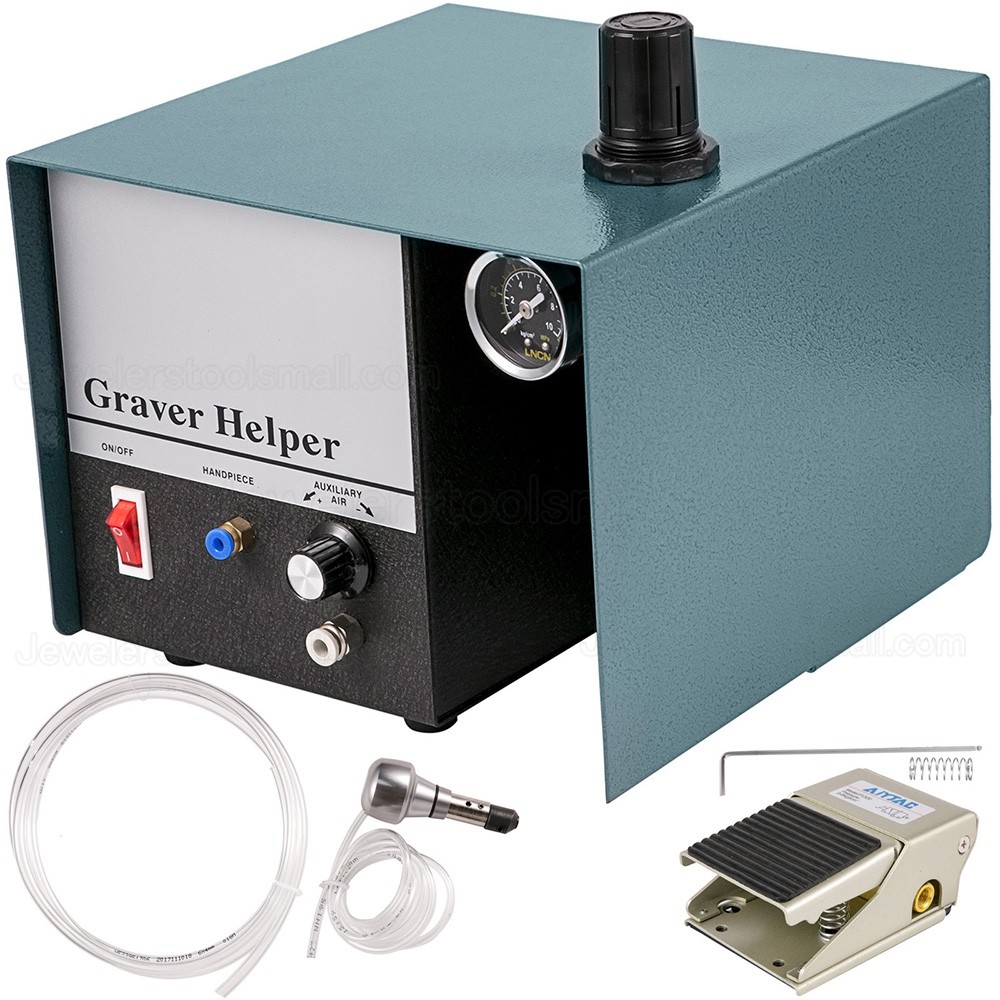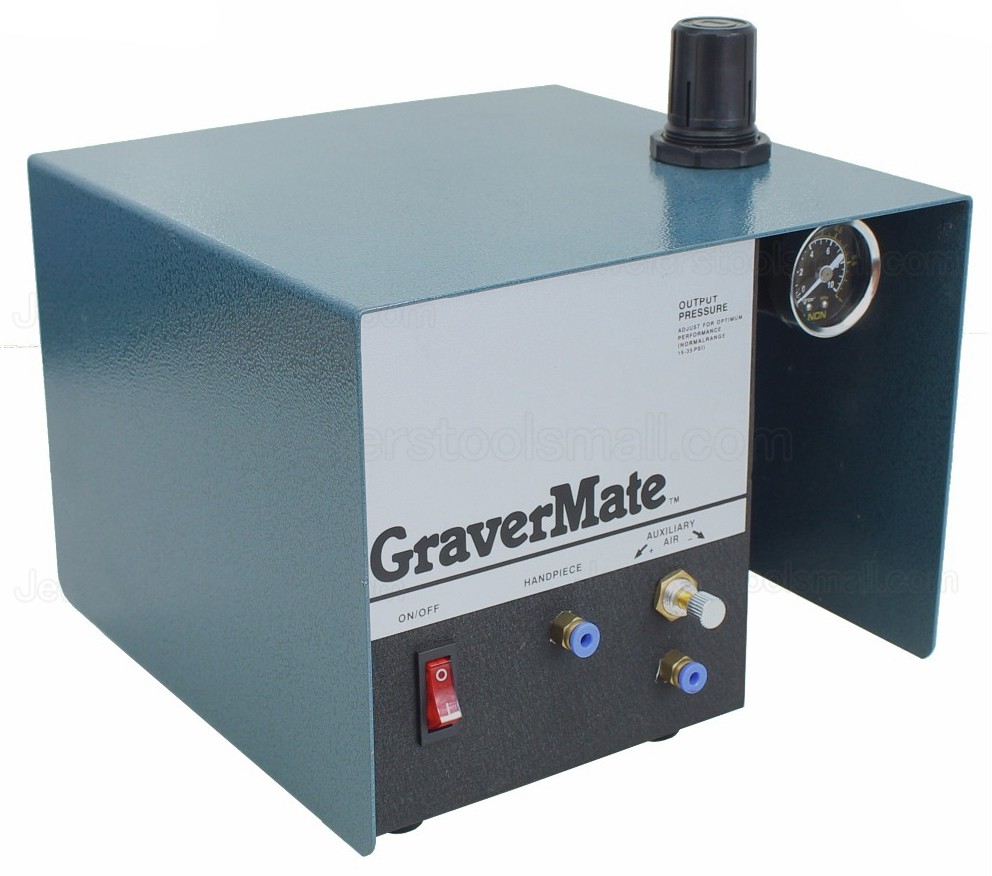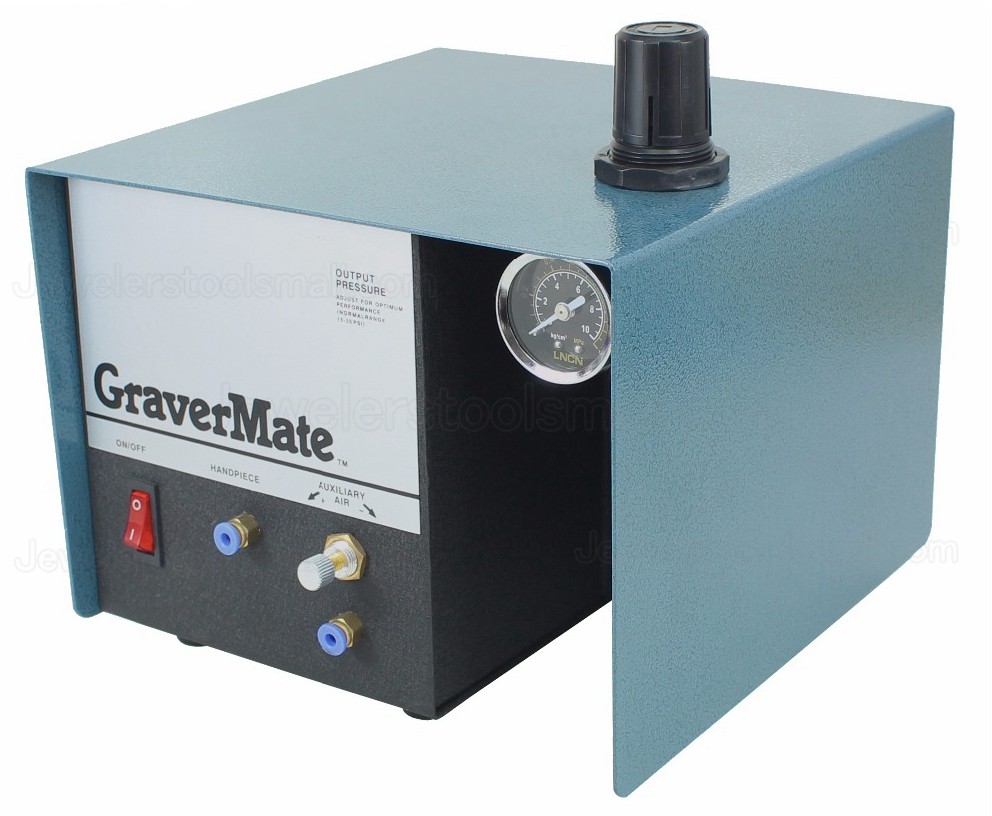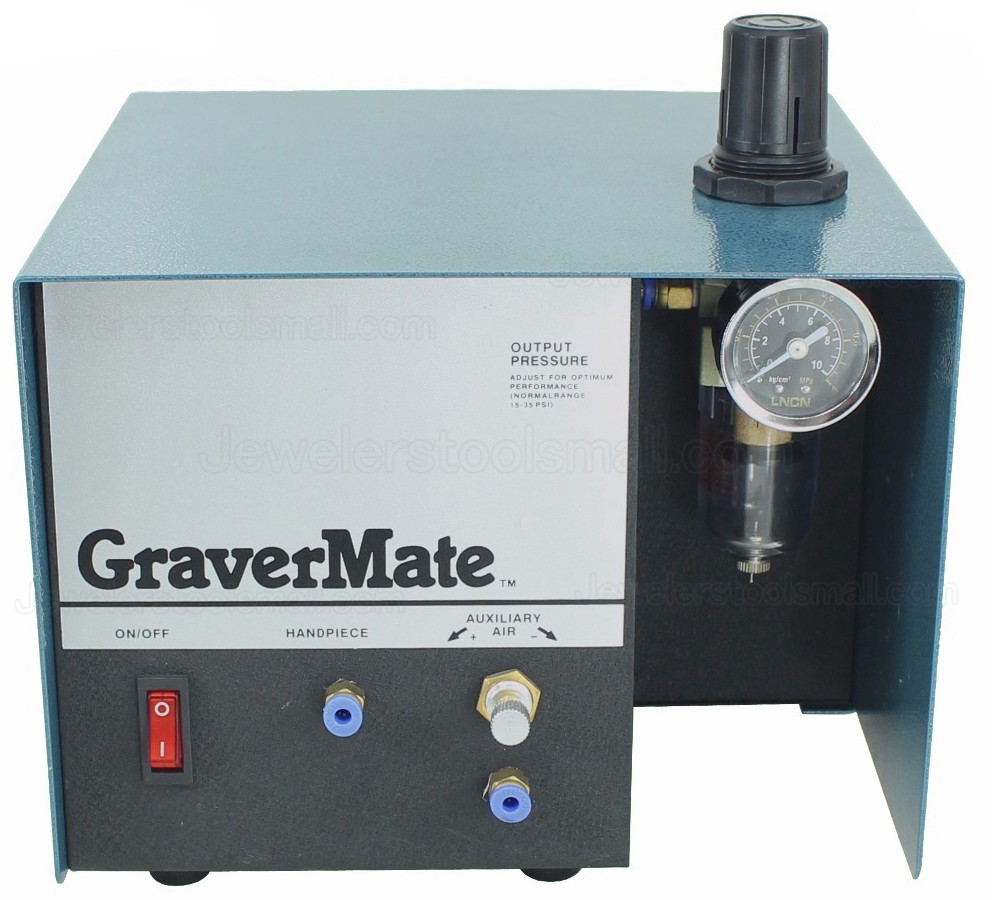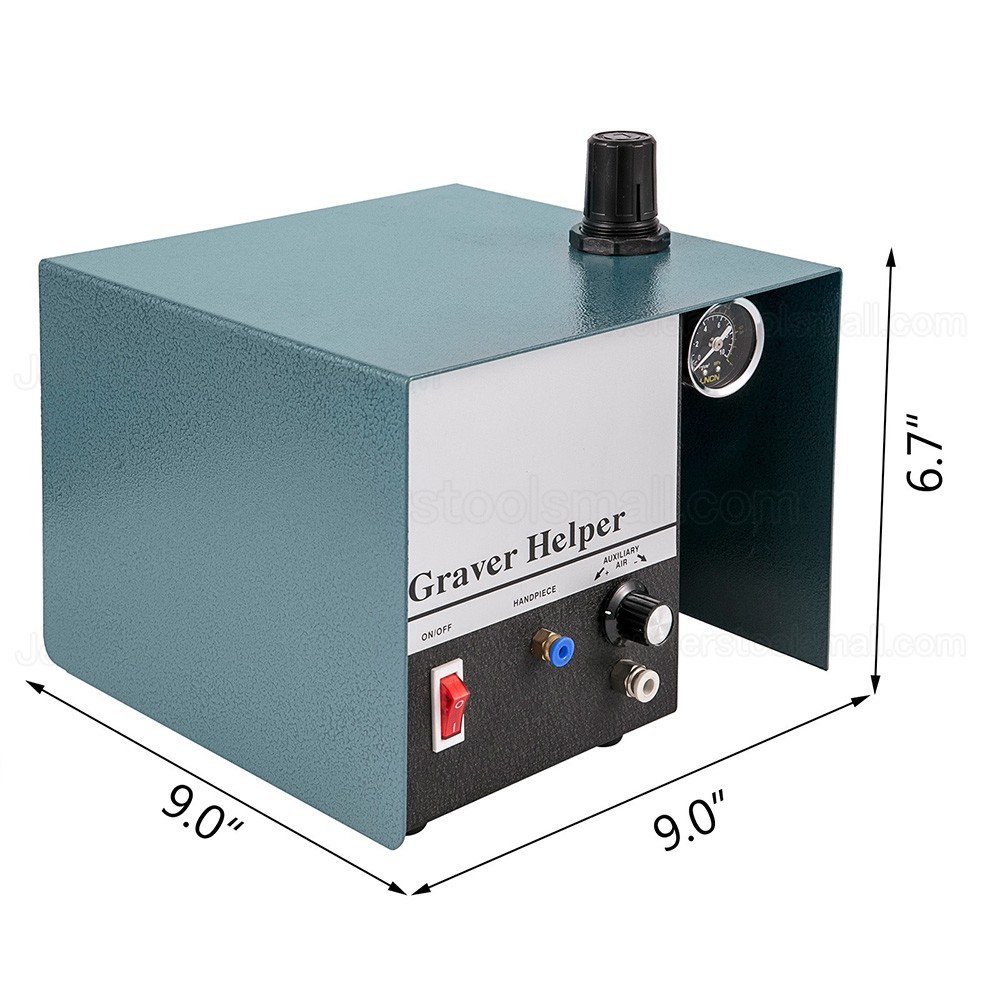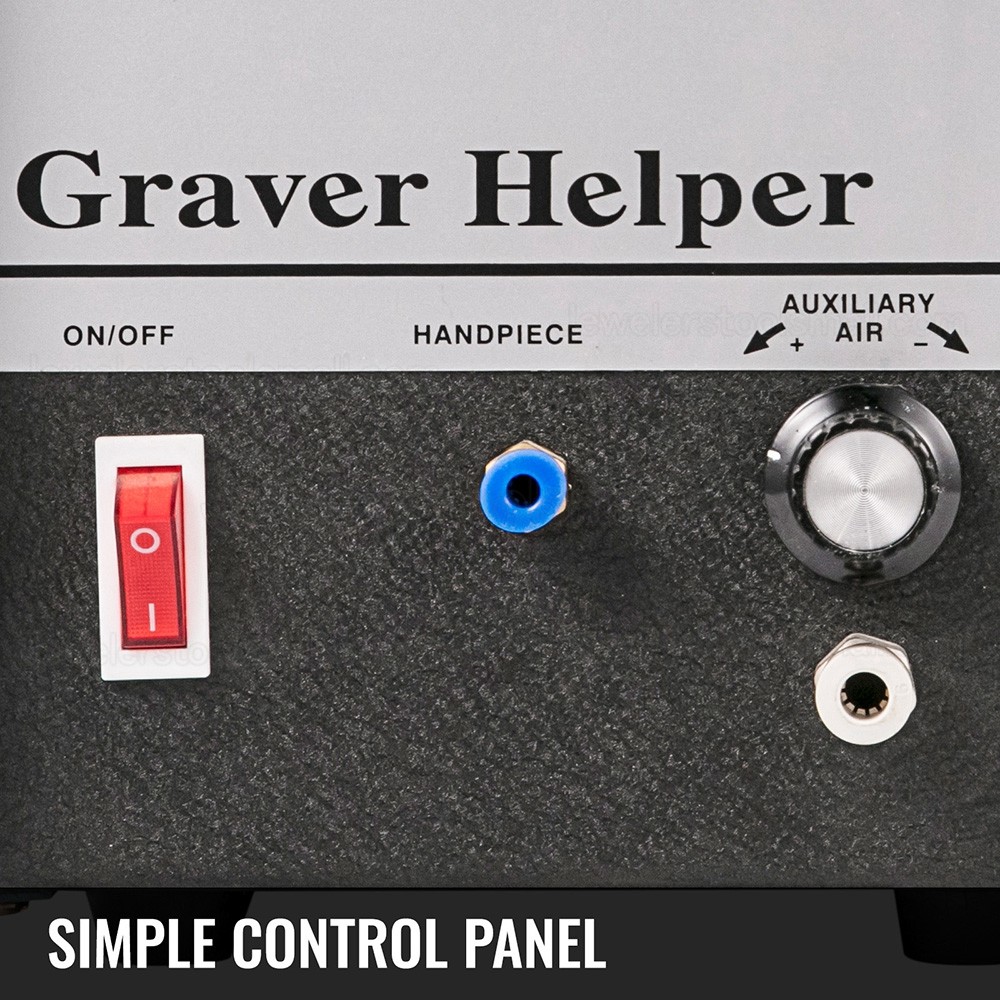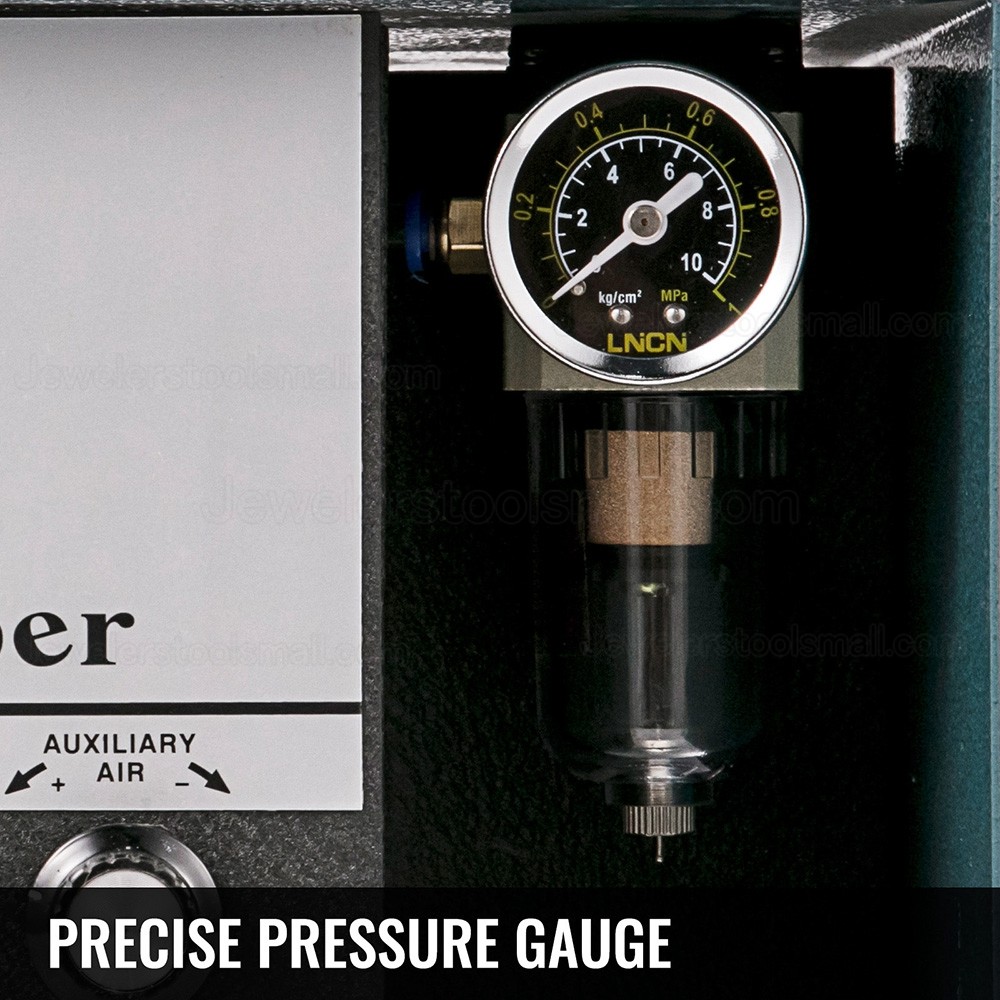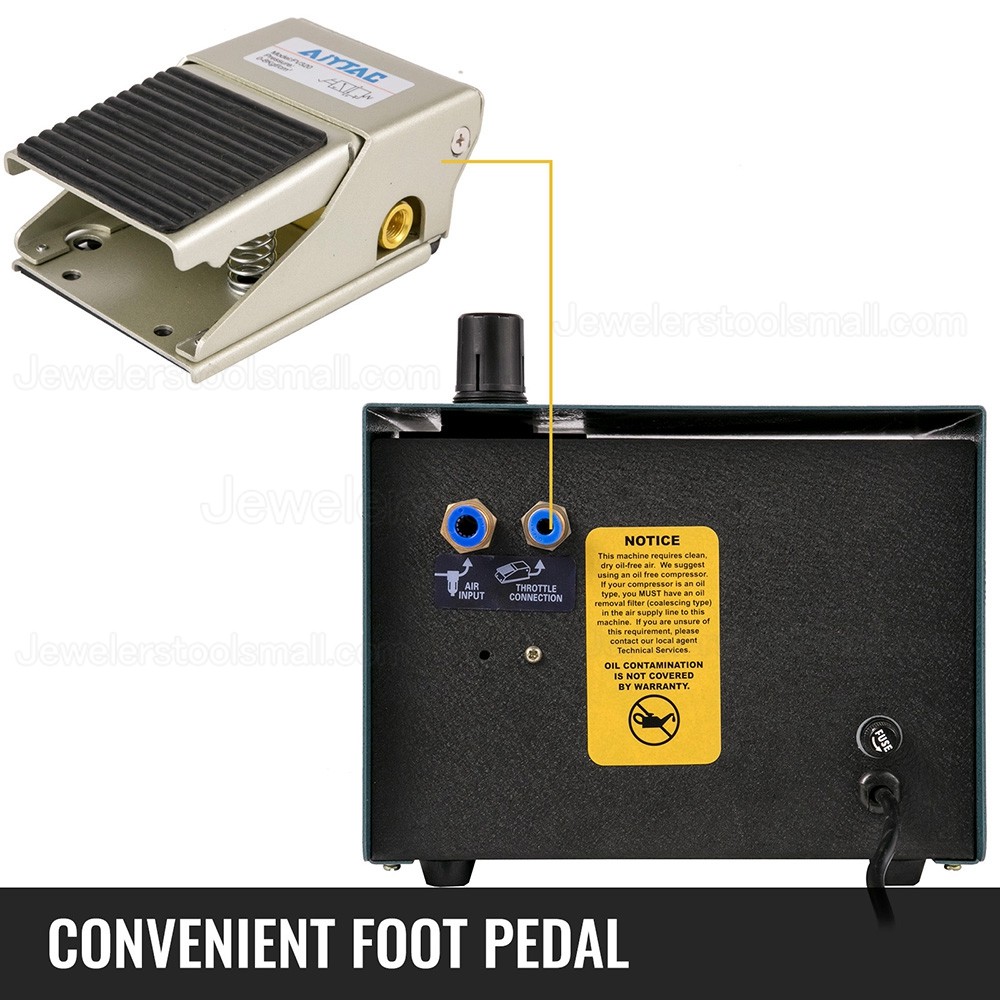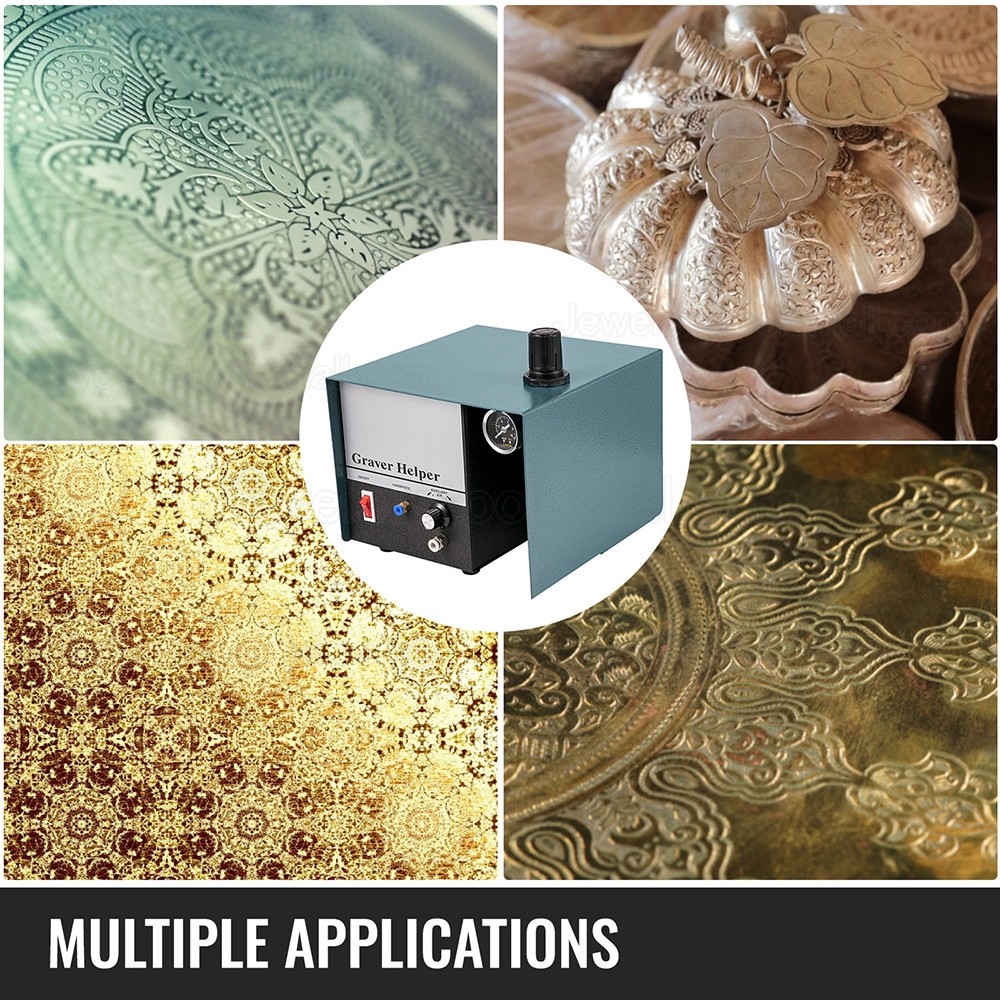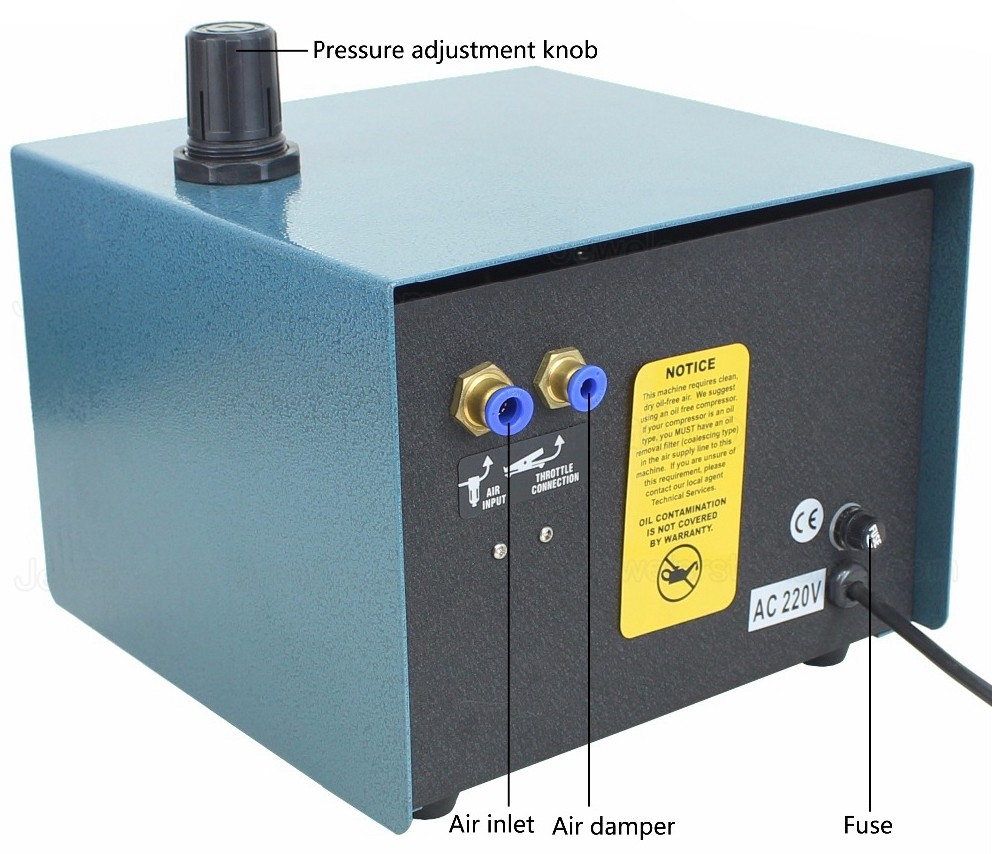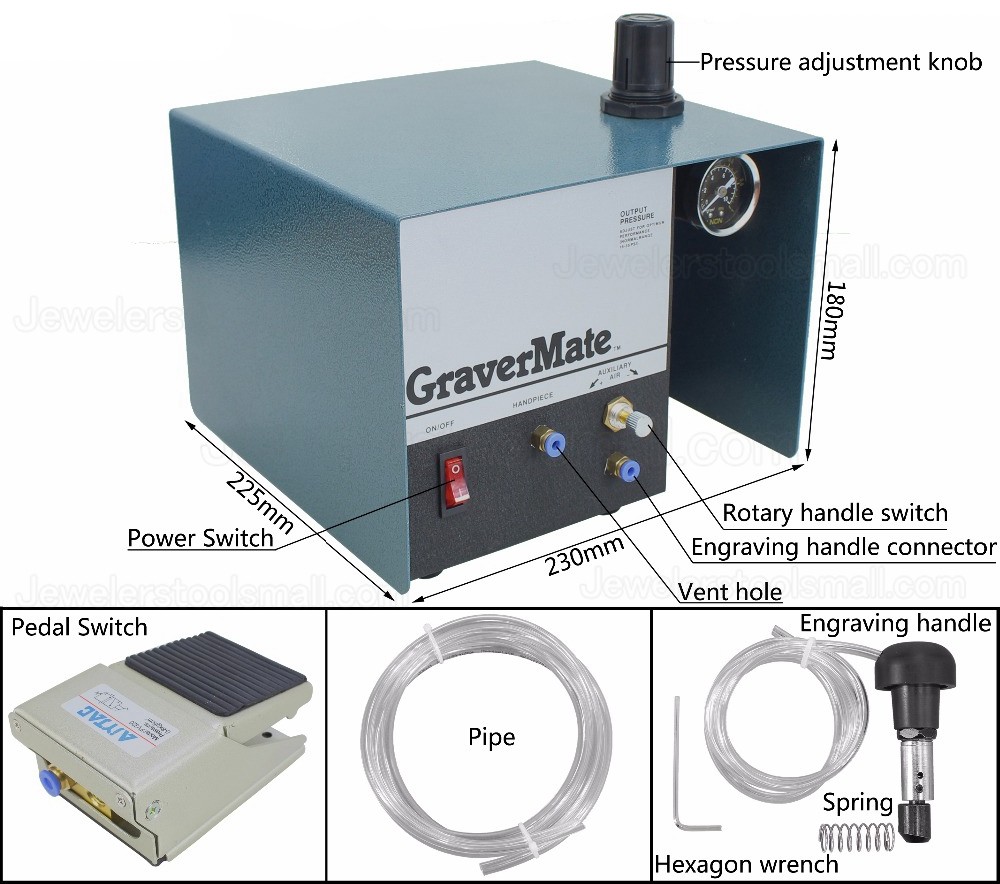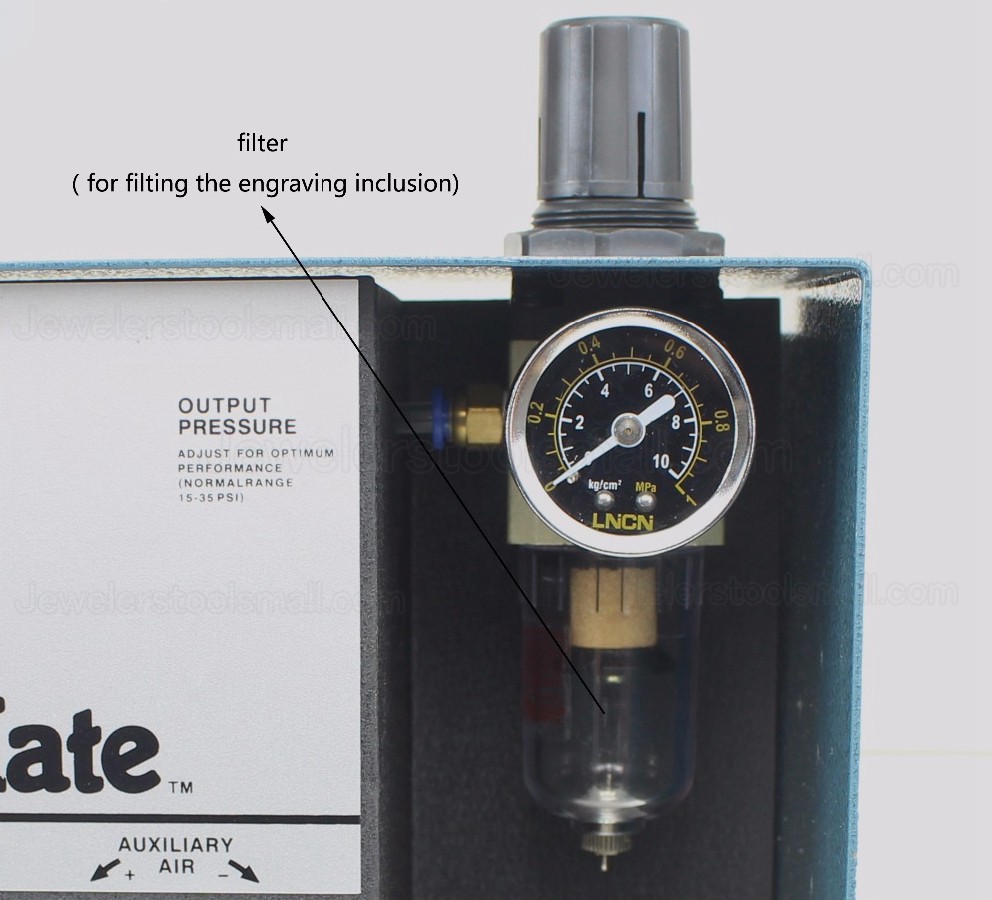 Jewelerstoolsmall.com supplies high-quality jewelry making tools for small and medium jewelers, goldsmiths, jewelry designers, refurbishers, jewellery repairers or hobbyists with fast global shipping and affordable price. If you have any questions or need help, please don't hesitate to contact us.
Paulo Soares – 29 Jun 2022



what size air compressor is required?
Administrator : Dear friend,
This jewelry pneumatic engraving machine needs 600W and 29L air compressor, any othes question? please feel free to contact us.
Thanks
Chic Love – 18 Feb 2021



what size air compressor doe this need to run properly?
Administrator : 1.5 gallon or 1.5 gallon above air compressor.
noah – 15 Feb 2021



What type and size of tubing is needed for compressor connection?
Administrator : The machine requires 1.4 CFM(10 liters/min.) at a minimum 45PSI(3.1 bar). Maximum input is 125PSI(8.6 bar). The compressed air must be reasonably clean and dry. The built - in filter on each unit is a final filter and not capable of removing large amount of water or contaminants.
Chic Love – 15 Feb 2021



Do you need a separate air compressor for this?
Administrator : Yes, need a separate air compressor.