Pneumatic Jewelry Engraving Machine Hand Engraving Engraver Graver Double-Head Micro Engraver for Jewelry Making
NO.:
JWSM001062

2 reviews
|
Write a review
Latest price:
$718.50
Buy It Now:
$479.00
Pneumatic Jewelry Engraving Machine Hand Engraving Engraver Graver Double-Head Micro Engraver for Jewelry Making
Double-head Jewelry Pneumatic Engraving Machine
The pneumatic graver tools feature 400-8000 strokes per minute, flexible, convenient & efficient, and can adjust the machine's speed. A throttle bias adjustment valve for tailoring throttle response, and a dual-stage precision air regulator. Advanced ergonomics include front air pressure adjustment, the advanced valve pulse unit with virtually no noise or vibration.

Features:
Multifunctional Control Panel:
With full-featured clear buttons to achieve quick and easy operation; Reasonable layout and intuitive & clear digital display improve daily use convenience.

Precise Pressure Gauge:
The equipped pressure gauge can always measure the jewelry engraver's pressure in time, ensuring the accurate adjustment & control, bringing better engraving effect.

Convenient Foot Pedal:
Connect the foot pedal directly to the jack at the pneumatic graver's back, and you can effectively control and adjust the engraving speed by adjusting this device.

Additional Filter:
To avoid the impurities generated in the engraving process from affecting the machine's speed, we specially added a filter device to collect metal impurities and improve work efficiency.

Well-selected Material:
The pneumatic jewelry engraver uses the frosted material, and the thickened shell is formed by one-time stamping without welding, features premium durability & water-proof advantages.

Multiple Applications:
Suitable for engraving all kinds of metal jewelry; the scope of application: jewelry processing, engraving, carving, reel bead edge, mosaic, etc.

Specification:
Power Supply: 110V 60Hz
Adjustable Speed: 400-8000 rpm
Adjustable Pressure Range: 0-4 kg
Gross Weight:8.3 kg(18.29lbs)
Product Size: 21.08 x 12.95 x 26.92 cm/8.3 x 5.1 x 10.6 inch
Package Size:37 x 29 x 27 cm/14.56 x 11.42 x 10.63 inch


Package:
1 x Jewellery Engraver Machine
1 x Foot Pedal
1 x Filter
2 x Pneumatic Graver Handpieces
1 x Connecting Pipe
1 x English Manual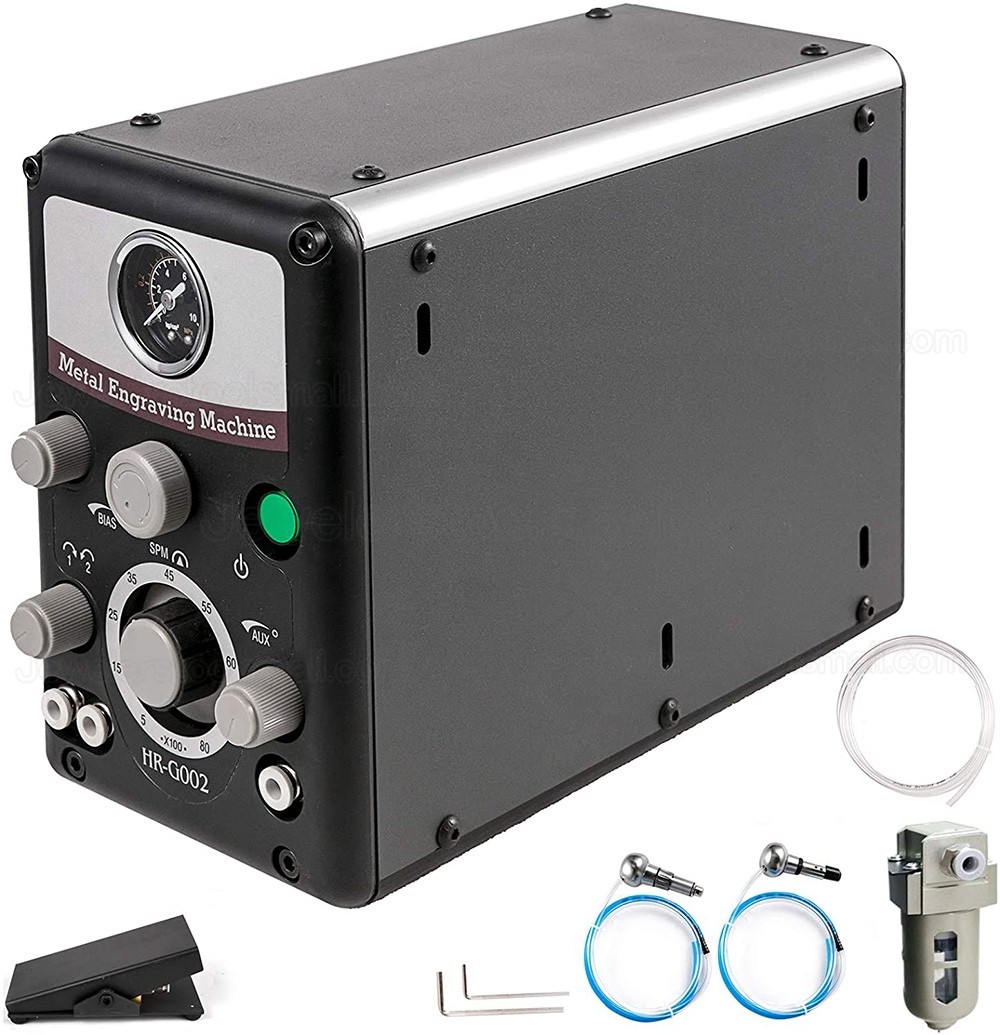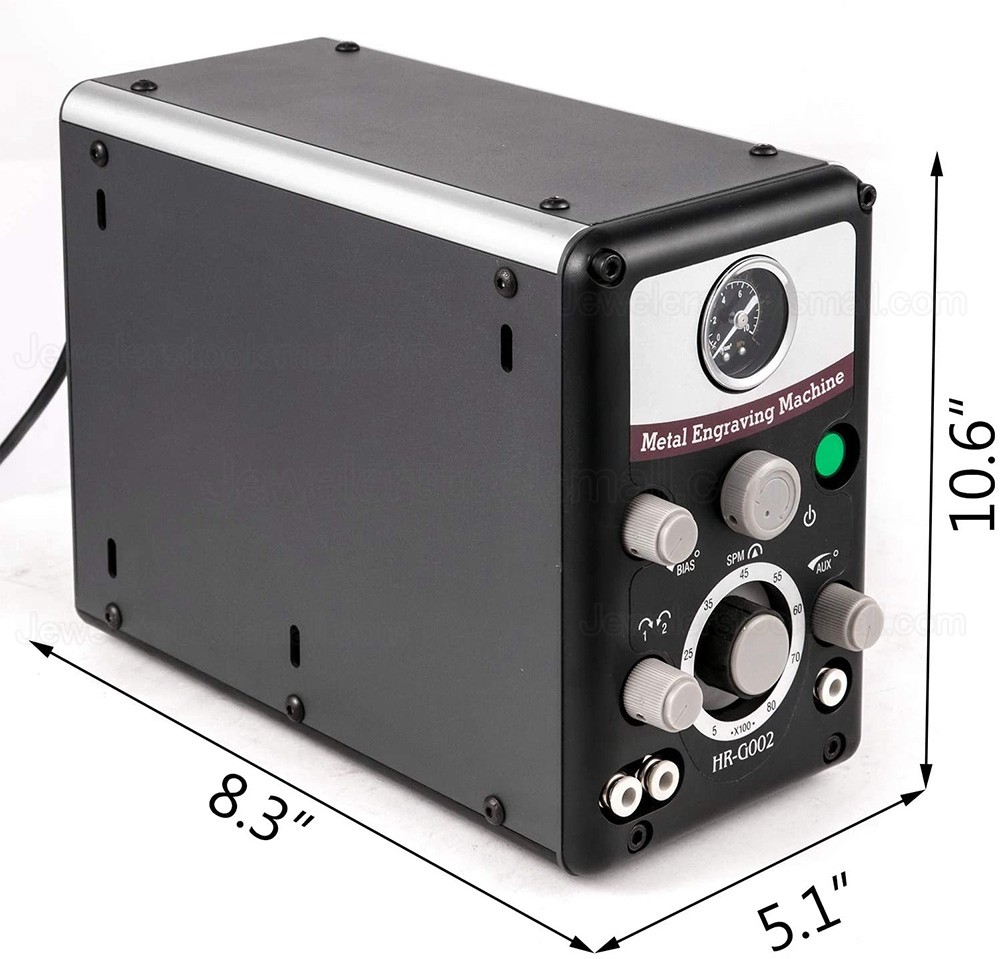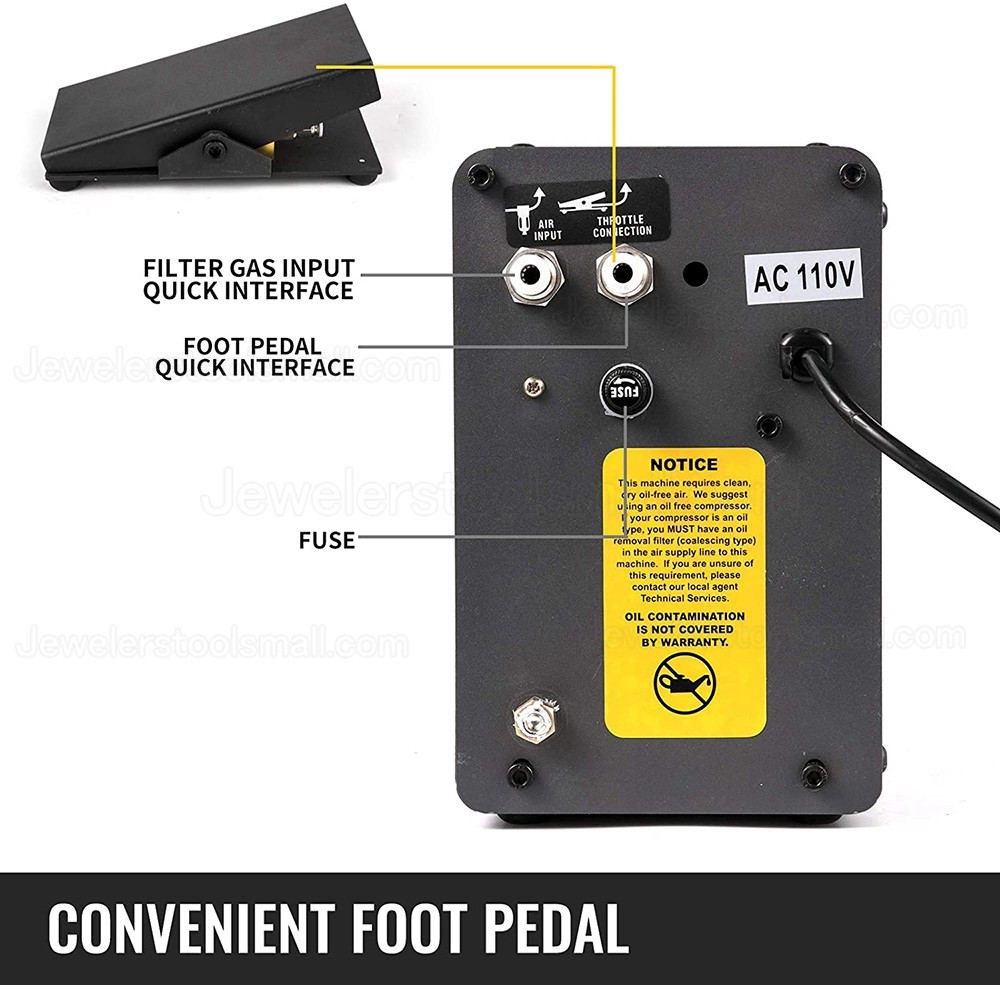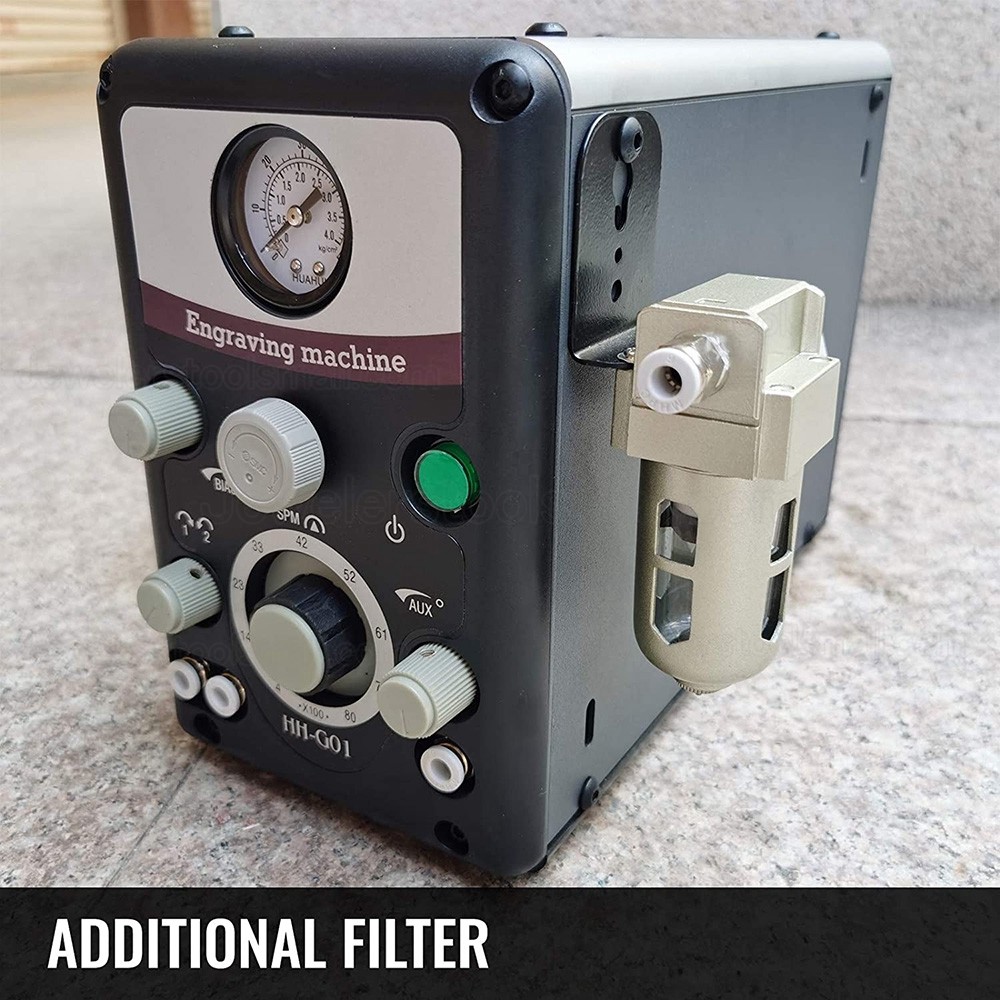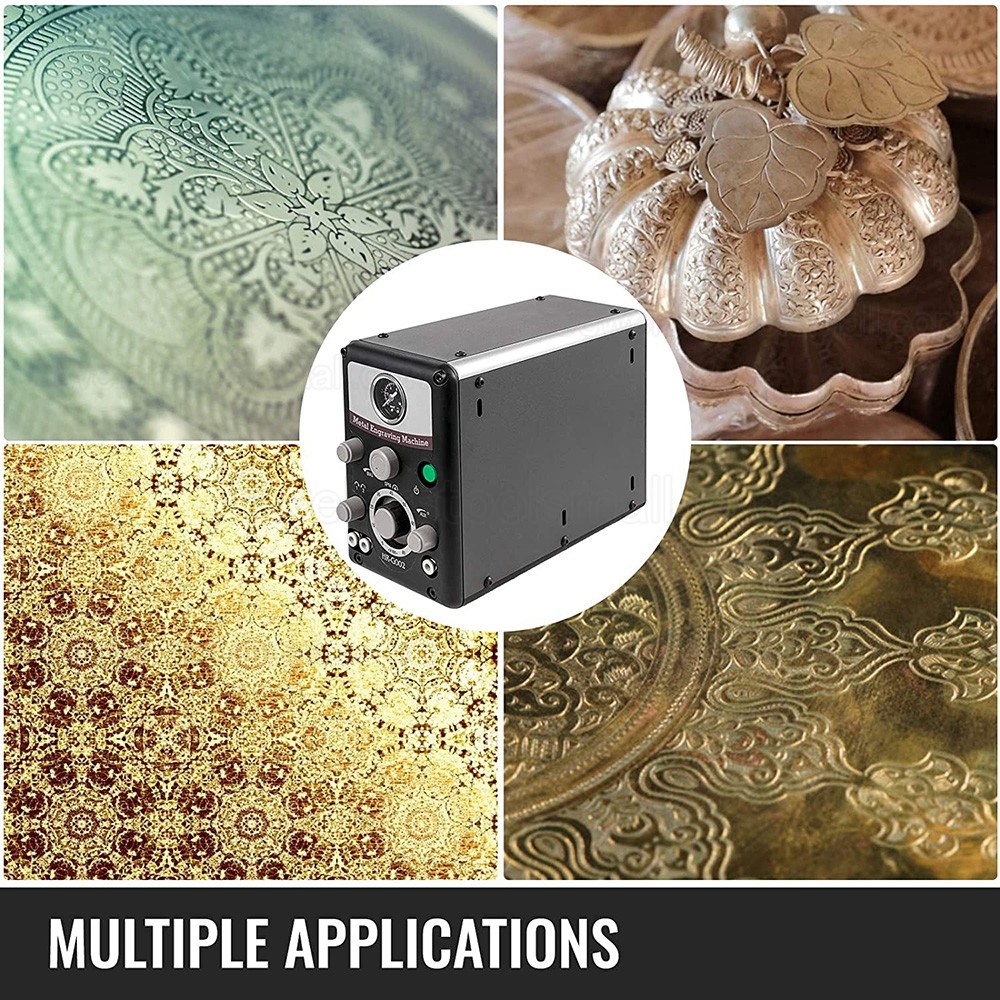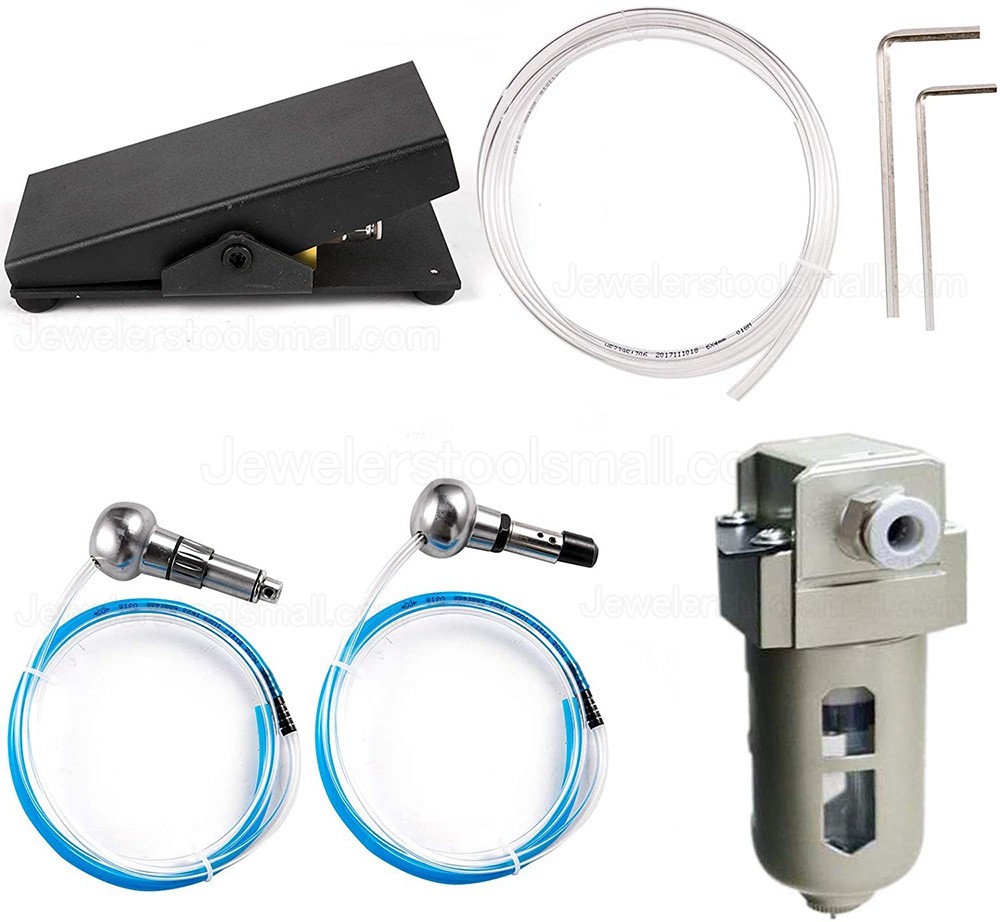 Jewelerstoolsmall.com supplies high-quality jewelry making tools for small and medium jewelers, goldsmiths, jewelry designers, refurbishers, jewellery repairers or hobbyists with fast global shipping and affordable price. If you have any questions or need help, please don't hesitate to contact us.
Victor K – 22 Apr 2022



This machine is working well for me. I am new to engraving and making good progress with this machine. Very happy.
Amir – 18 Feb 2021



Finished for 10 days, drove by courier service, connected everything works, there is complaints about plastic but does not affect the work