Electric Pearl Punch Machine Jade Beads Hole Punch Drilling Machine Chuck 0.3 4mm
NO.:
JWSM001709

3 reviews
|
Write a review
Latest price:
$202.50
Buy It Now:
$135.00
Electric Pearl Punch Machine Jade Beads Hole Punch Drilling Machine Chuck 0.3 4mm
Product Description
Pearl Drilling Holing Machine Driller Full Set Jewelry Jade Driller Tools With Sanding Disc
The latest drilling machine used for a variety of pearl amber beeswax Shell plastic beads ball drill, the machine used for the copper electrical motor, reliable quality.
Specifications:
Model: 240W/320W/600W
Frequency: 60Hz
Power: 280W
Voltage: 220V
Speed: 500-15000 rev / min
Chuck:0.3~4mm
You can clamp diameter: Maximum clip 4-35 mm diameter beads
Advantage:
1: Can be used for precise drilling pearl coral amber and gold, silver and other jewelry components
2: The machine is equipped with special chuck for round, barrel-like shape beads beads
3: On 5 - 35MM specifications of each pearl ball puncturing
4: Depth can be adjusted to fight air
5: At the bottom there is a vise dust hole, so that the machine can punch batch , to ensure the long-term normal use of the machine.
6: Small size, light weight, attractive appearance, suitable for any places.
With speed control pedal as you let your heart should start working head can replace punch size
Package contains:
1x Pearl drilling machine
1x Foot switch
1x Pearl Chuck Kit box
1x Handle
3x Hex wrench
6 x drill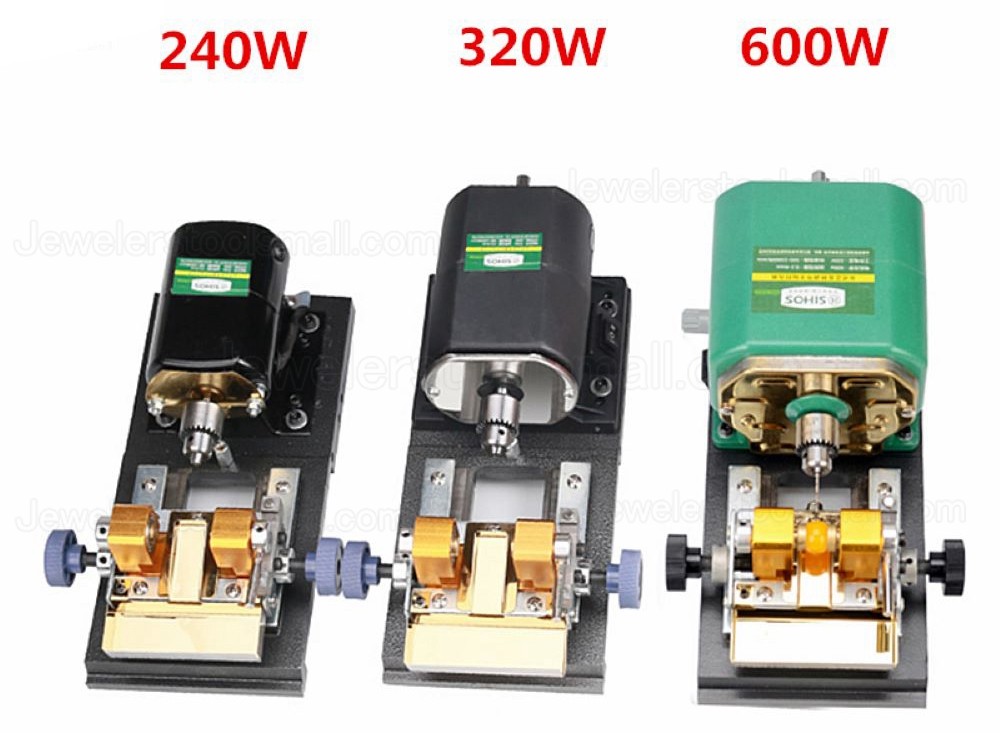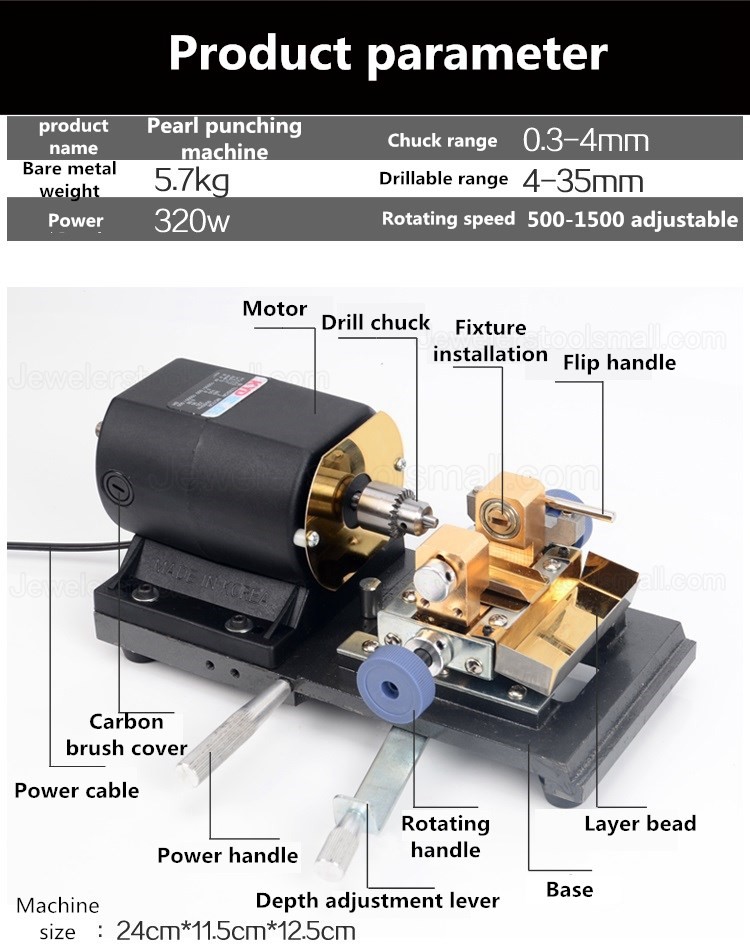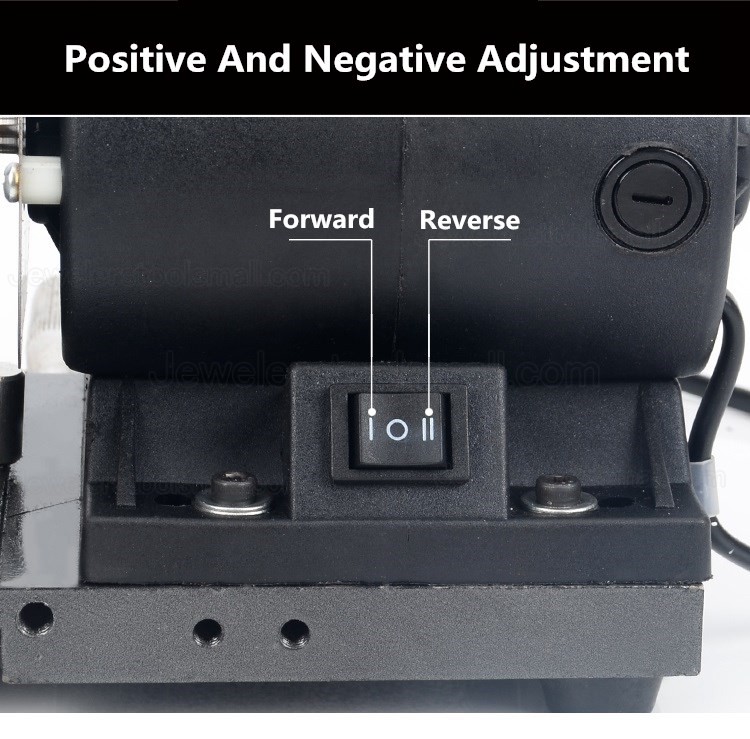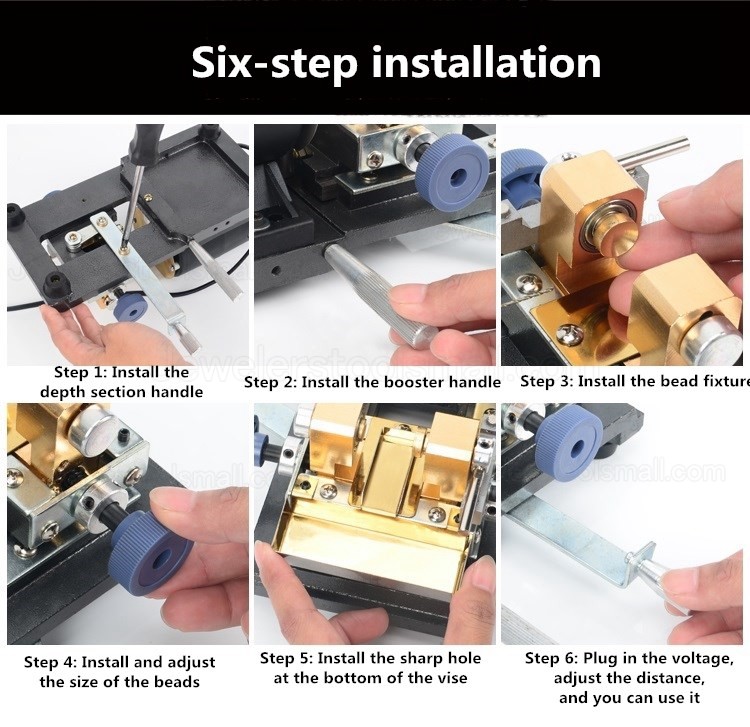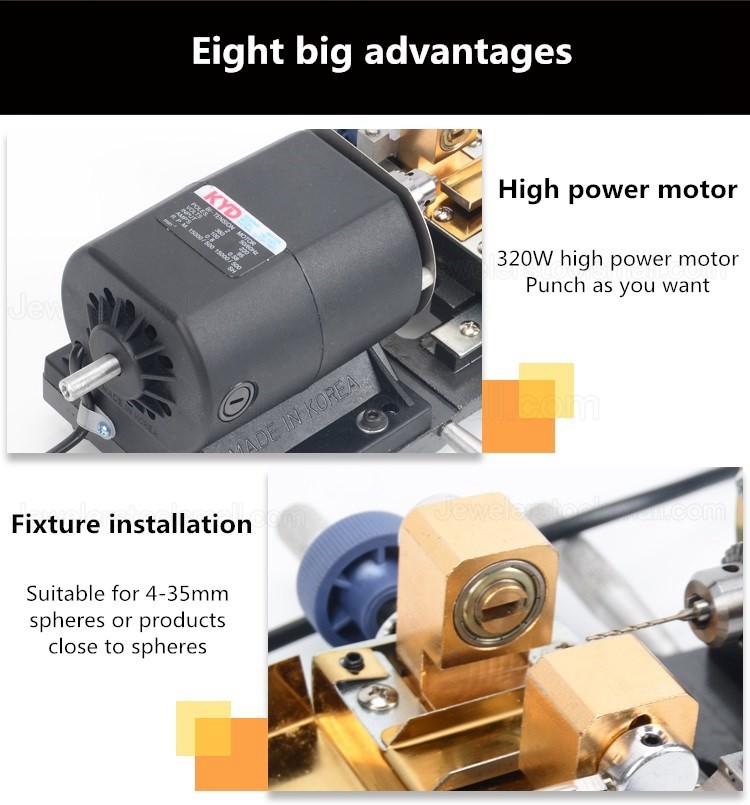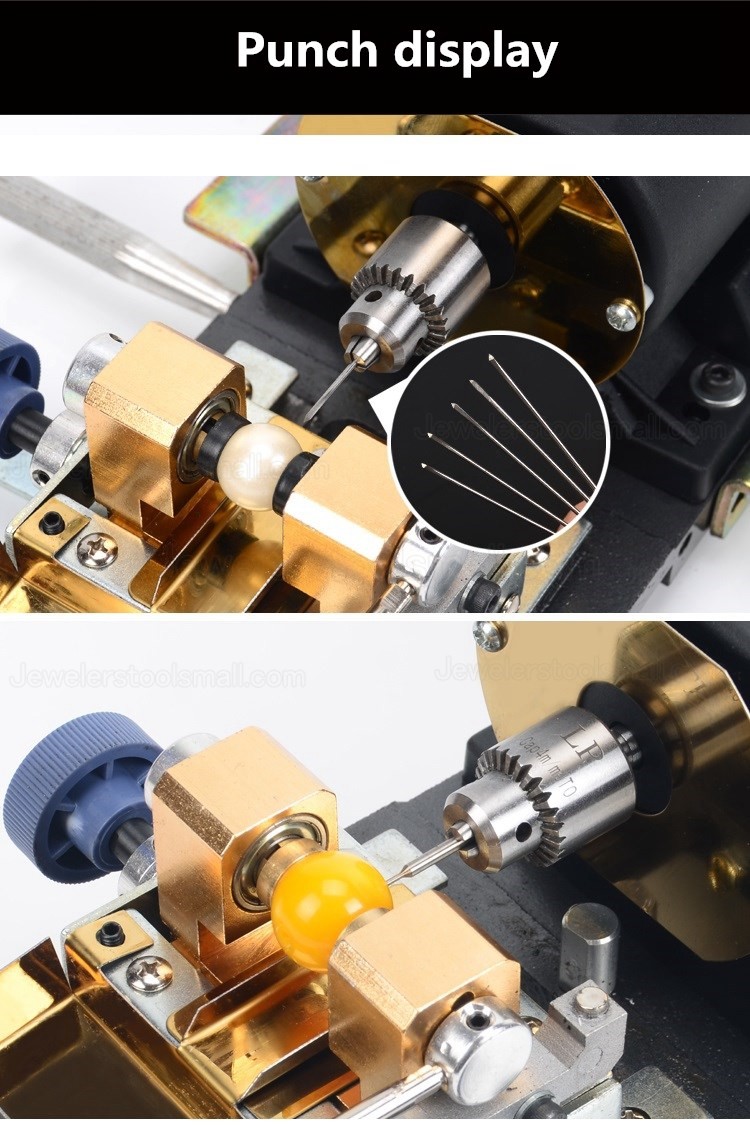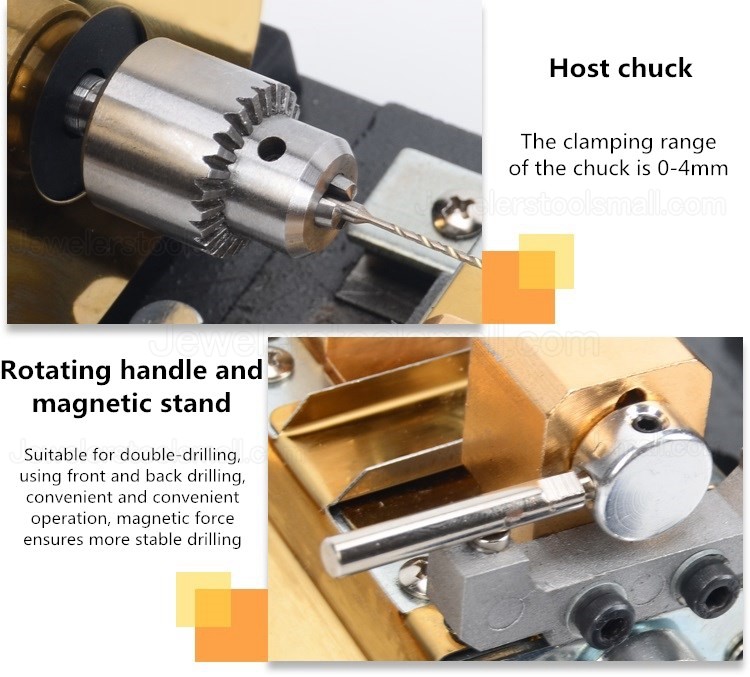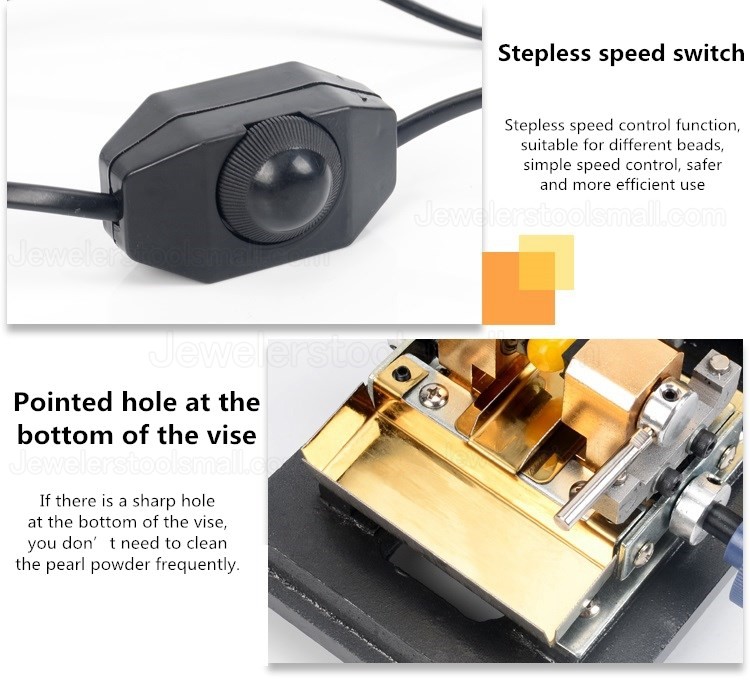 Jewelerstoolsmall.com supplies high-quality jewelry making tools for small and medium jewelers, goldsmiths, jewelry designers, refurbishers, jewellery repairers or hobbyists with fast global shipping and affordable price. If you have any questions or need help, please don't hesitate to contact us.
Mónica Suárez – 28 Mar 2022



¡Excelente! Bien embalado y todo como corresponde, muy buena calidad.
Xena – 18 Feb 2021



I got this to enlarge hole in some of my pearls. I was very leary to use on my expensive pearls but it was so easy to use. Start with the smallest drill bit and graduate to the desired bit. I string my pearls where I double back on the three end pearls so i can use a french wire and my pearls were not strung that way, that is why I needed to make the end holes a bit larger.
Because it already had a hole, I put the pearl on the mounted bit to make sure it was going to drill in the same hole. Then I tightened the pearl down and backed off of the bit, testing for proper placement before I actually drilled. I did it right the very first time. I am so happy with this machine! I may start taking in work for others that don't want to invest in the machine.
Keleka – 18 Feb 2021



Can this machine drill stone beads (with diamond bits)? also can this machine be used in north america 110 - 120v from 240v to 480v machines?
Administrator : Combined with tungsten steel needles, this machine can be used for stone carving. And it also can be used in 110V from 240w to 480w machines, just please choose the "110V" model.