2L Jewelry Vacuum Investing Casting Vacuum Casting Machine with 3 CFM Pump Casting and Investing Machine
NO.:
HJ-CM1

4 reviews
|
Write a review
Latest price:
$1815.39
Buy It Now:
$1344.47
2L Jewelry Vacuum Investing Casting Vacuum Casting Machine with 3 CFM Pump Casting and Investing Machine for Invested Flasks and RTV Molds
Features;
Vacuum hood & built-in fuel tank:
The vacuum hood made of thick aviation plastic is beneficial to reduce the burrs and bubbles produced. The built-in refueling device is installed to adjust the refueling amount by referring to the standard line.

Accurate pressure gauge:
Monitoring the current pressure helps you make relevant adjustments as needed to create a smooth surface. The cover shell made of metal features good durability.

User-friendly :
The heavy-duty structure with a reasonable layout provides an easy & simple operation. Many intimate details, like the comfortable handles and rubber feet, bring more convenience.

Wide applications:
The casting machine is ideal for jewelry processing factories and artwork manufacturers to make high-density, pretty jewelry.

Introductions:
Investing is Performed On a 11" x 11" Spring Supported Table With a 9" x 8" Bell Jar.
Pump 1/2 H.P 3 CFM.
Spring mounted investment table. 1/2 HP, 3 CFM, dual stage deep draw vacuum pump.
Equipped with "EZ-FLOW" oil changing system.
With Easy access to service add and change oil.

Specification:
Vacuum Pump: 2L, CFM: 3
Investment Plate Size: 11" x 11" Rubber Pad
Available Voltage: 110V, Hp: 1/2
Adapter Plate : 4"
Adapter Plate : 3 1/2"
Solid Wall Flask Adapter: 4" Silicone Gasket, 1/8" Thick
Acrylic Bell Jar: 9" x 8"
Product Size: 57.15 x 26.67 x 29.21 cm/22.5 x 10.5 x 11.5 inch

Package Content:
1 x Vacuum Casting Machine
1 x Bell Jar
1 x 3" Perforated Flask With Sleeve
1 x 3" Sprue Base
1 x Flask Tong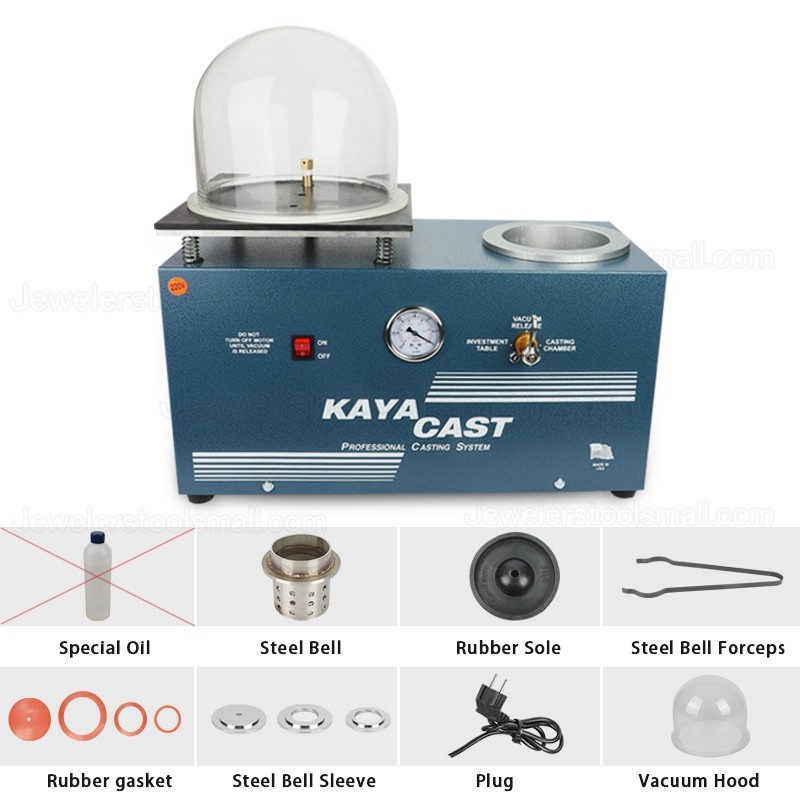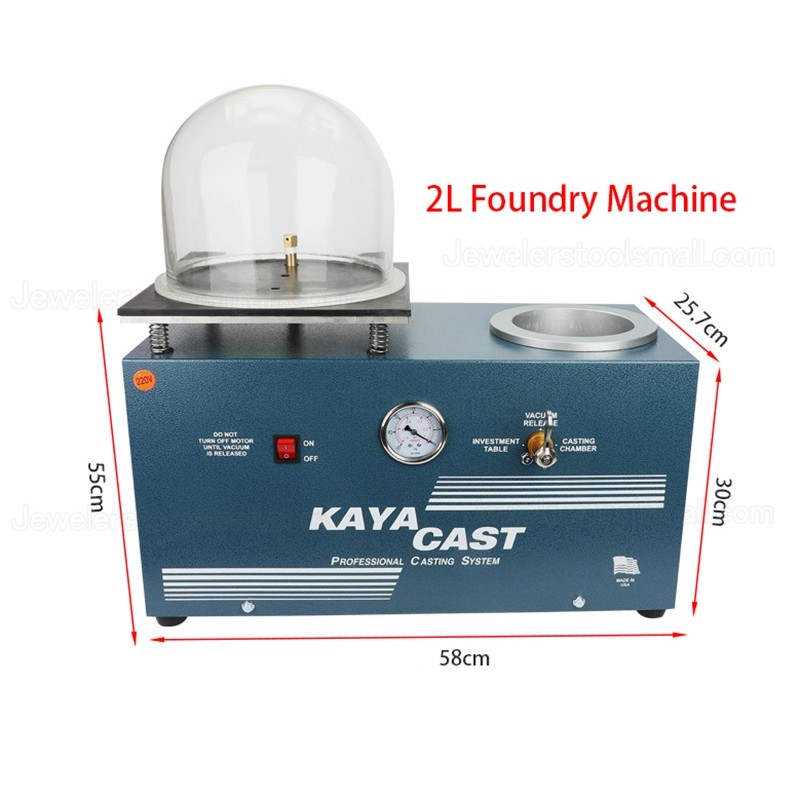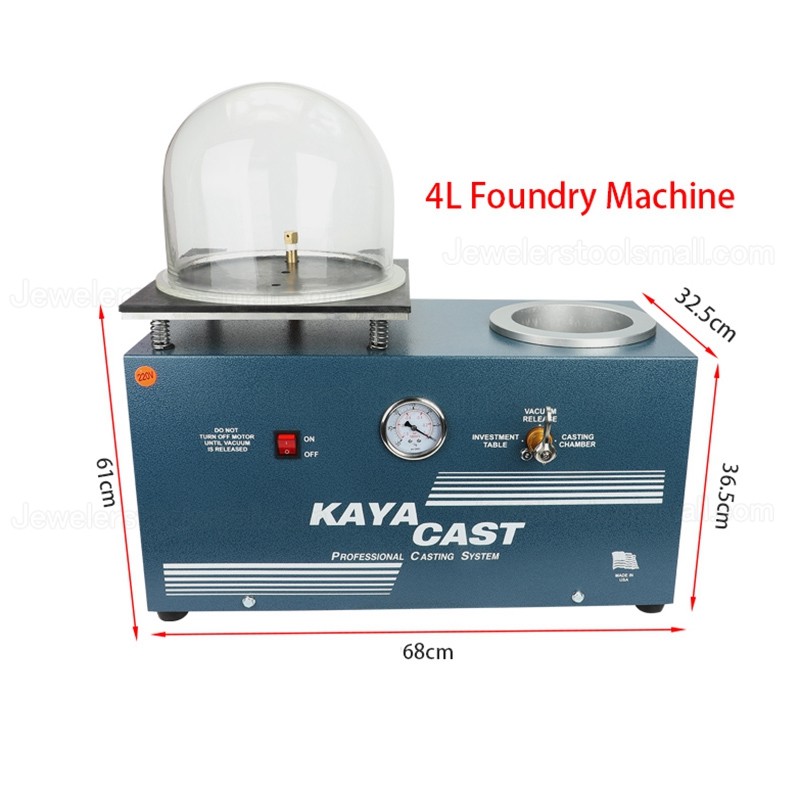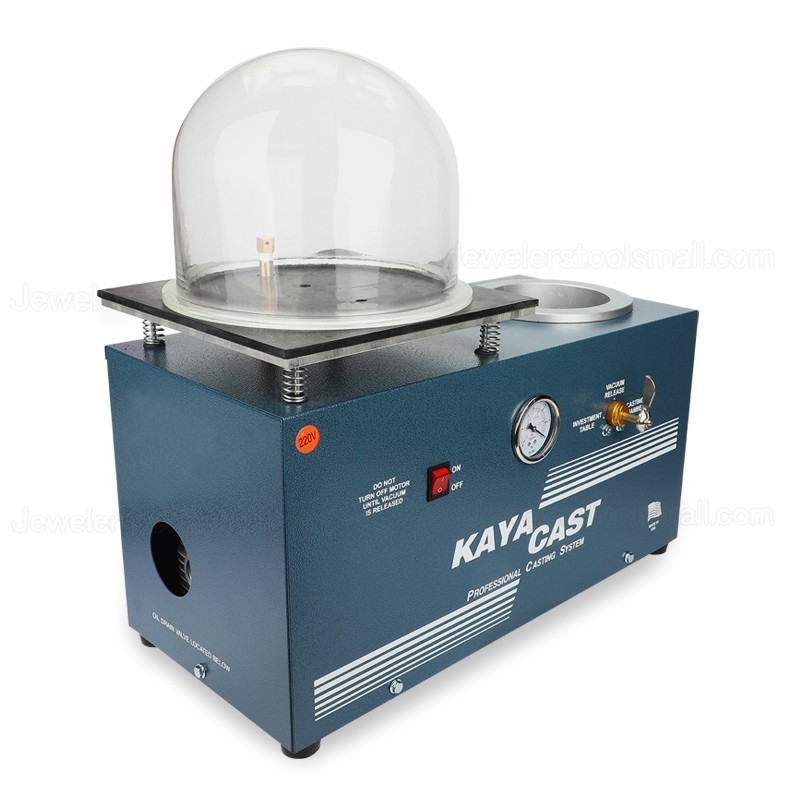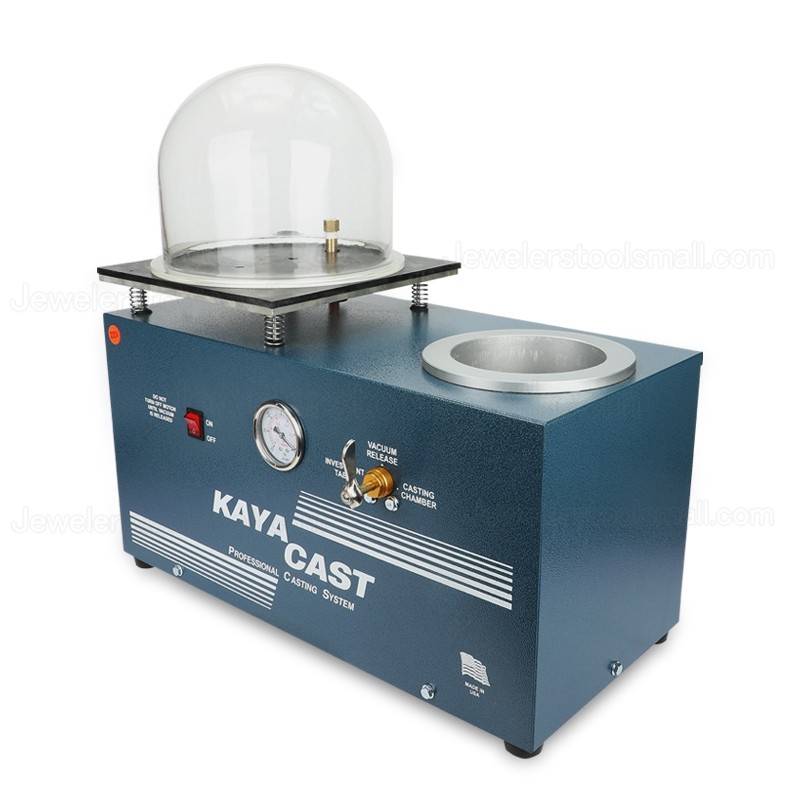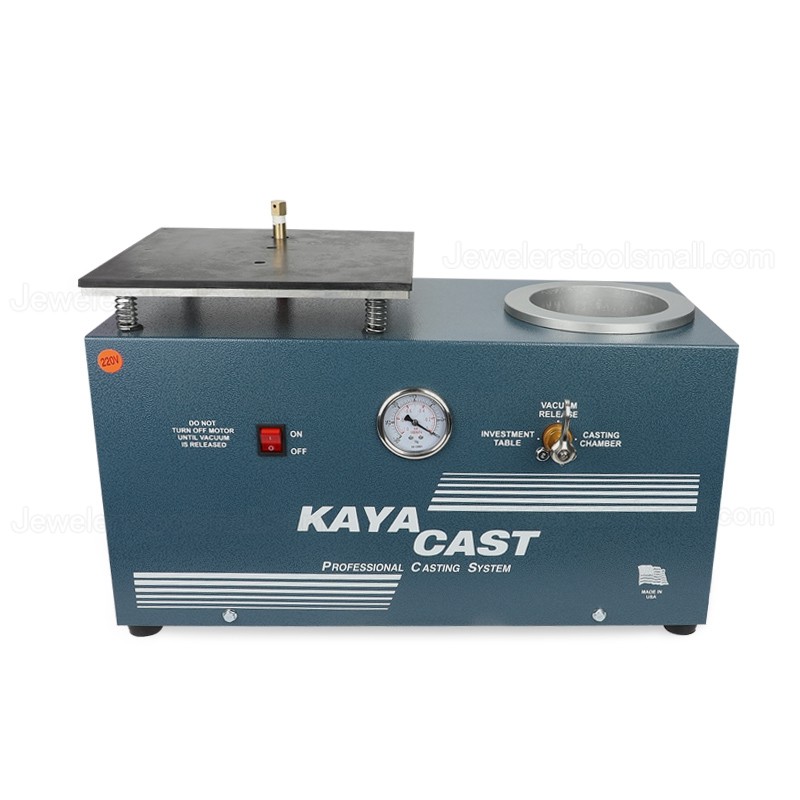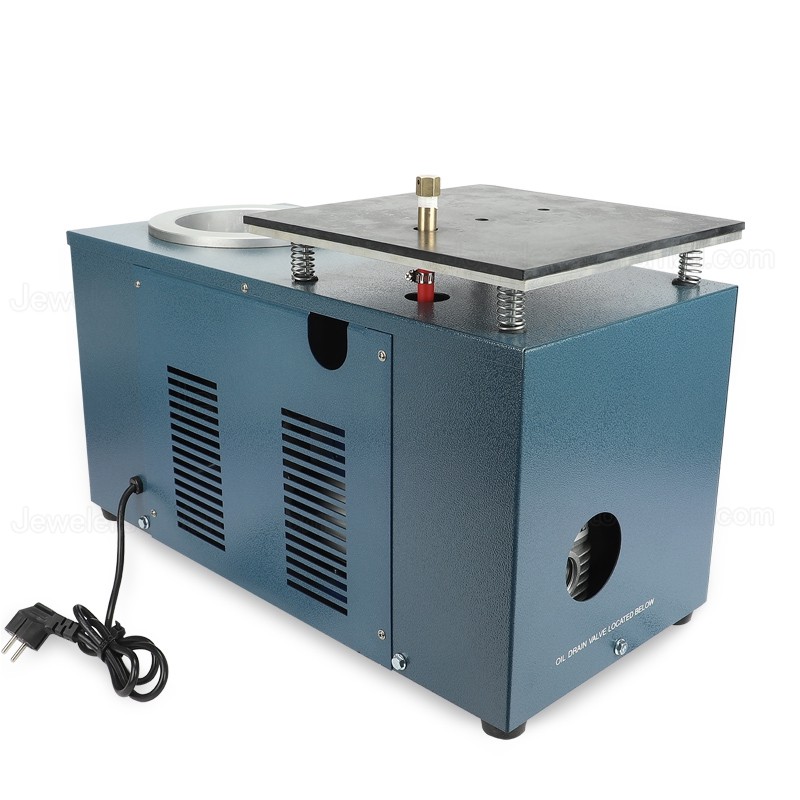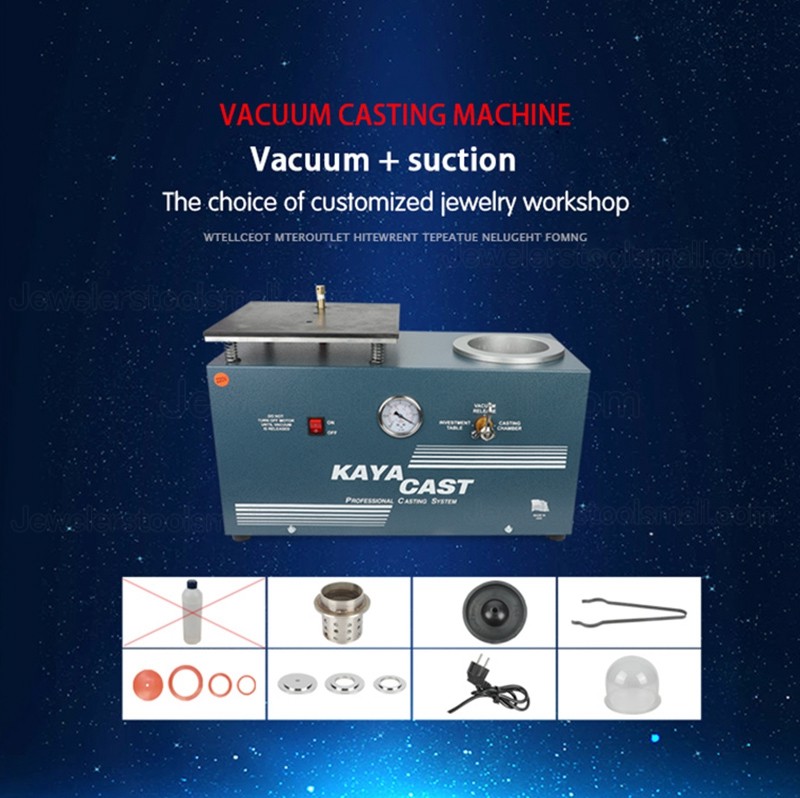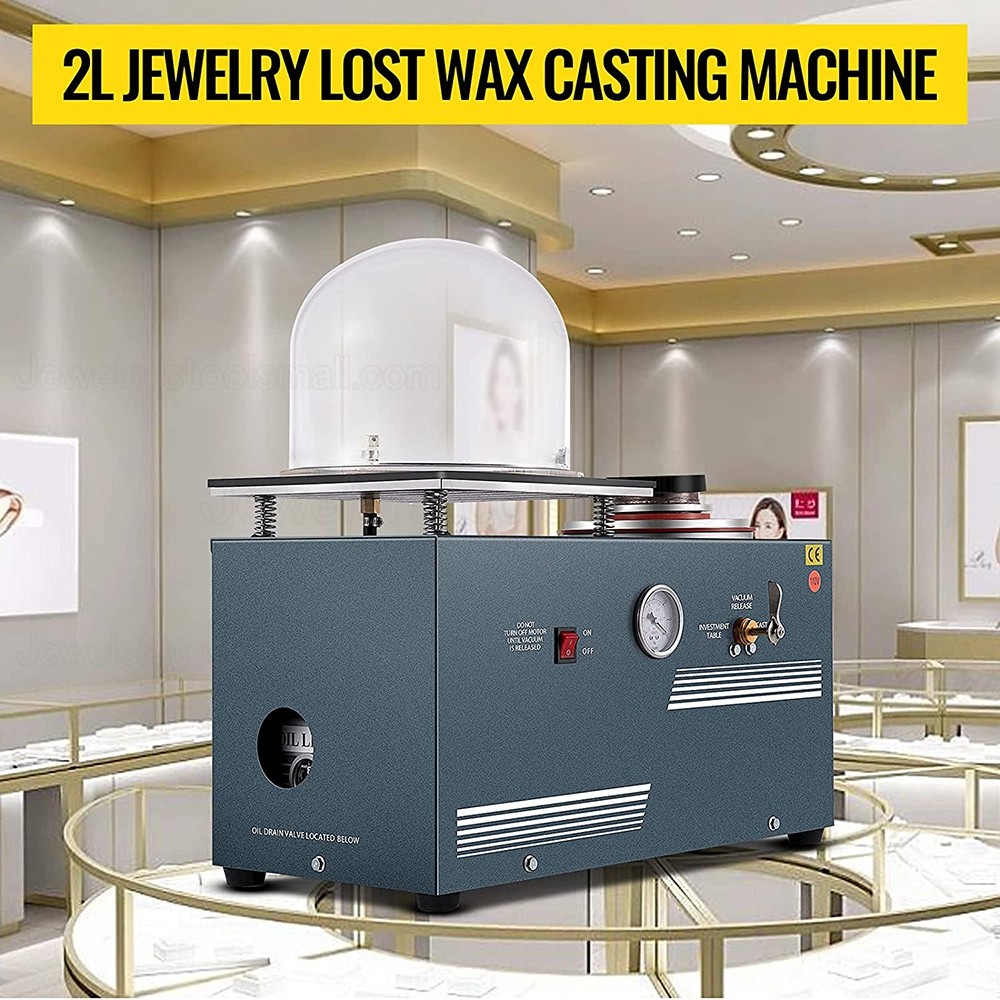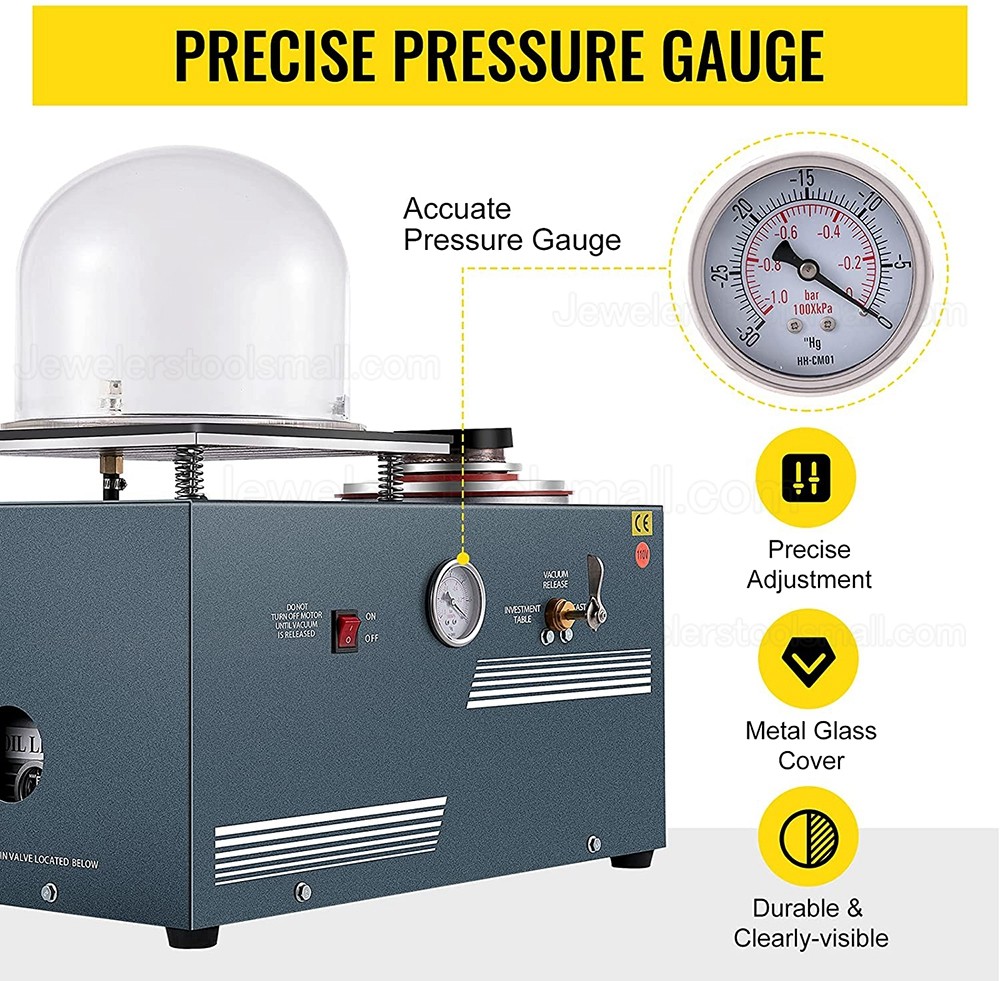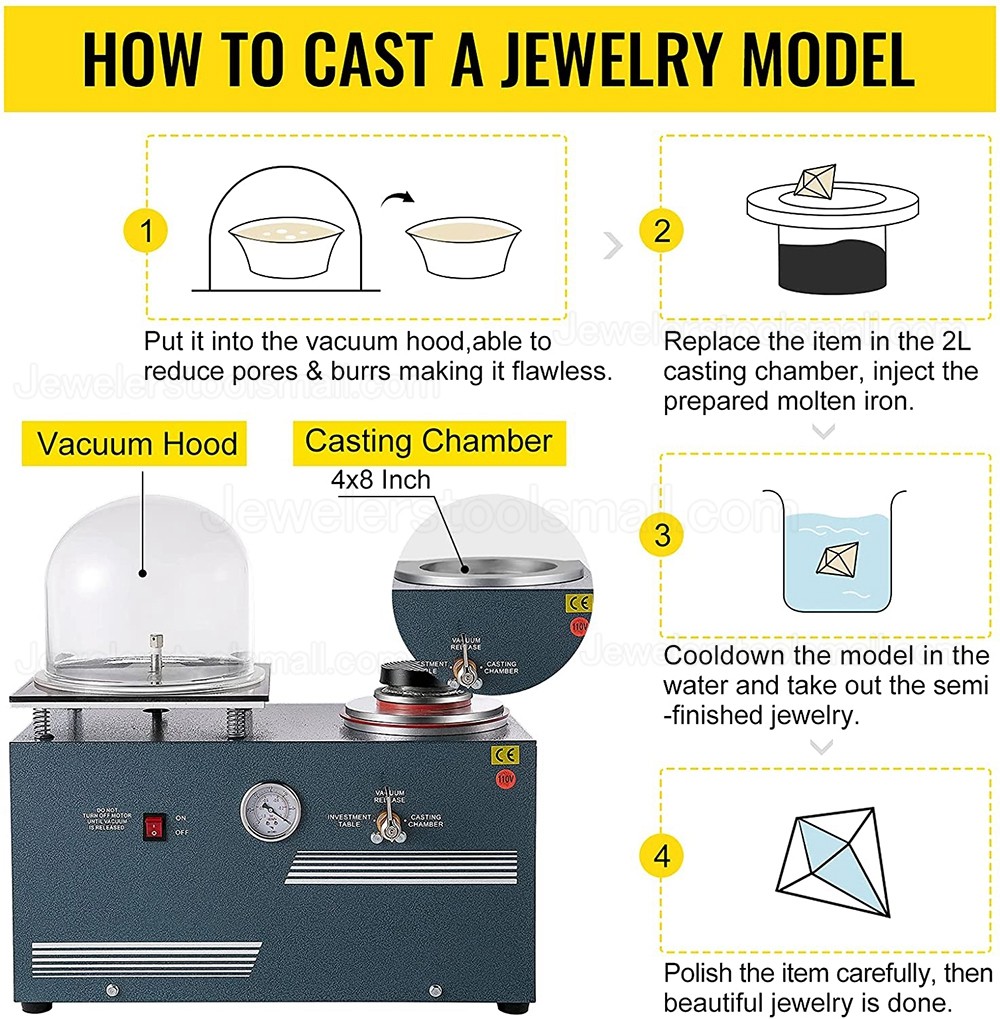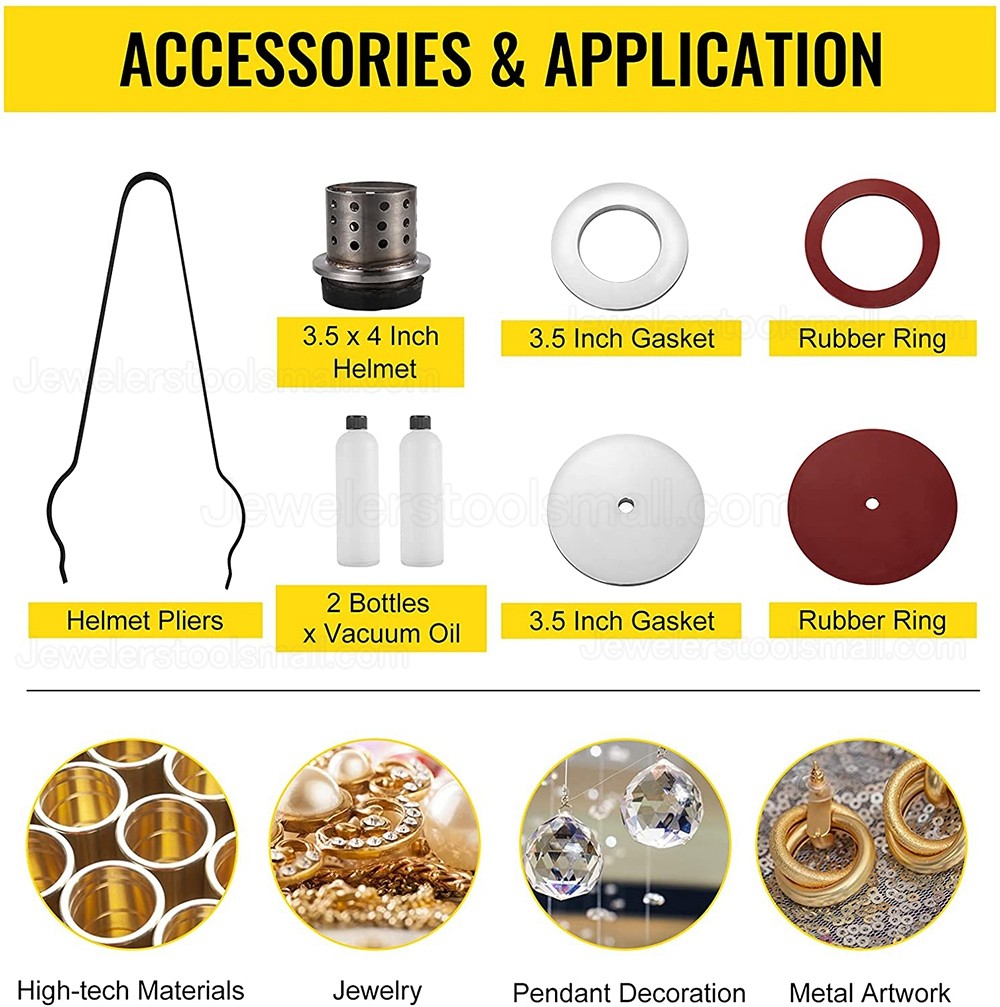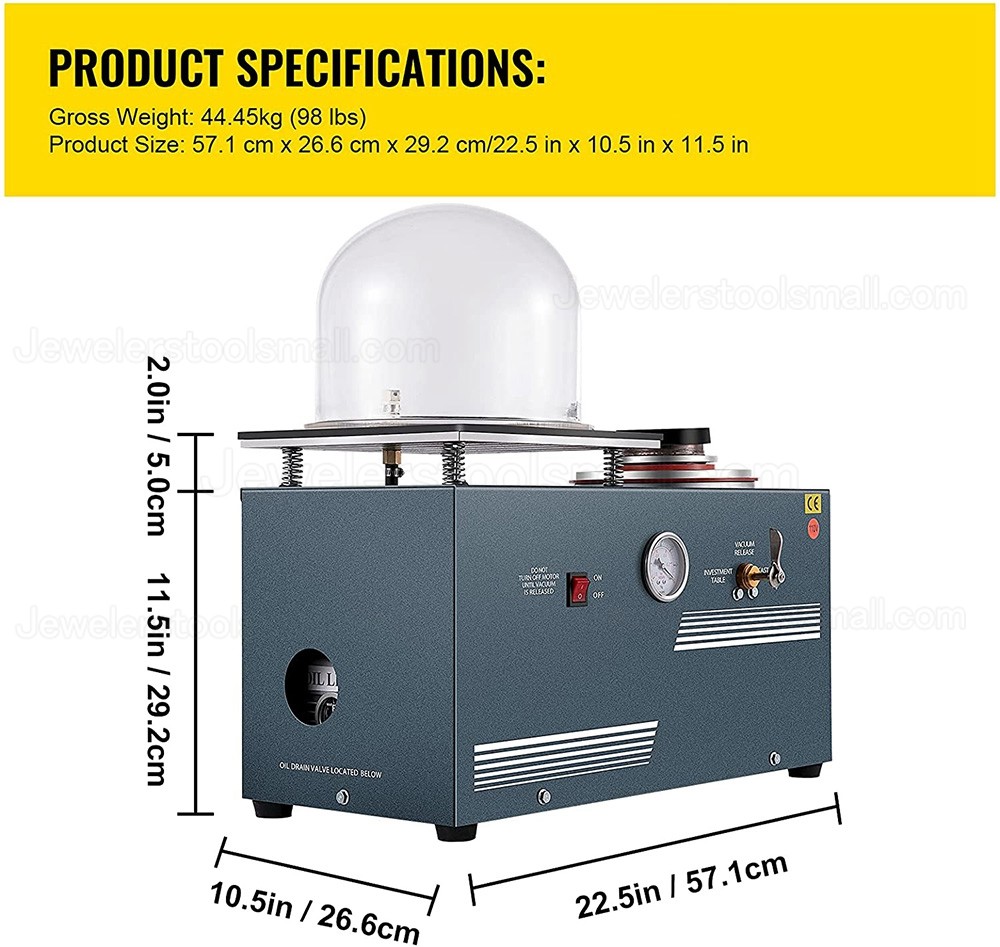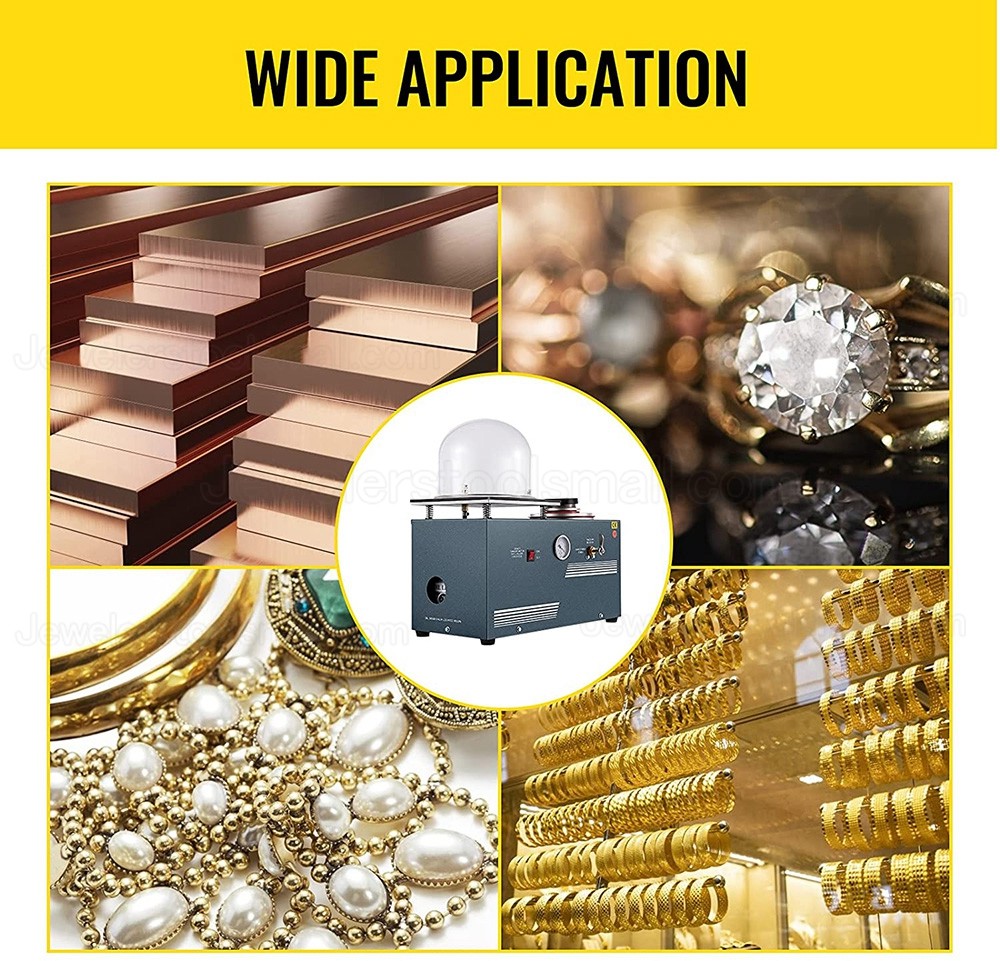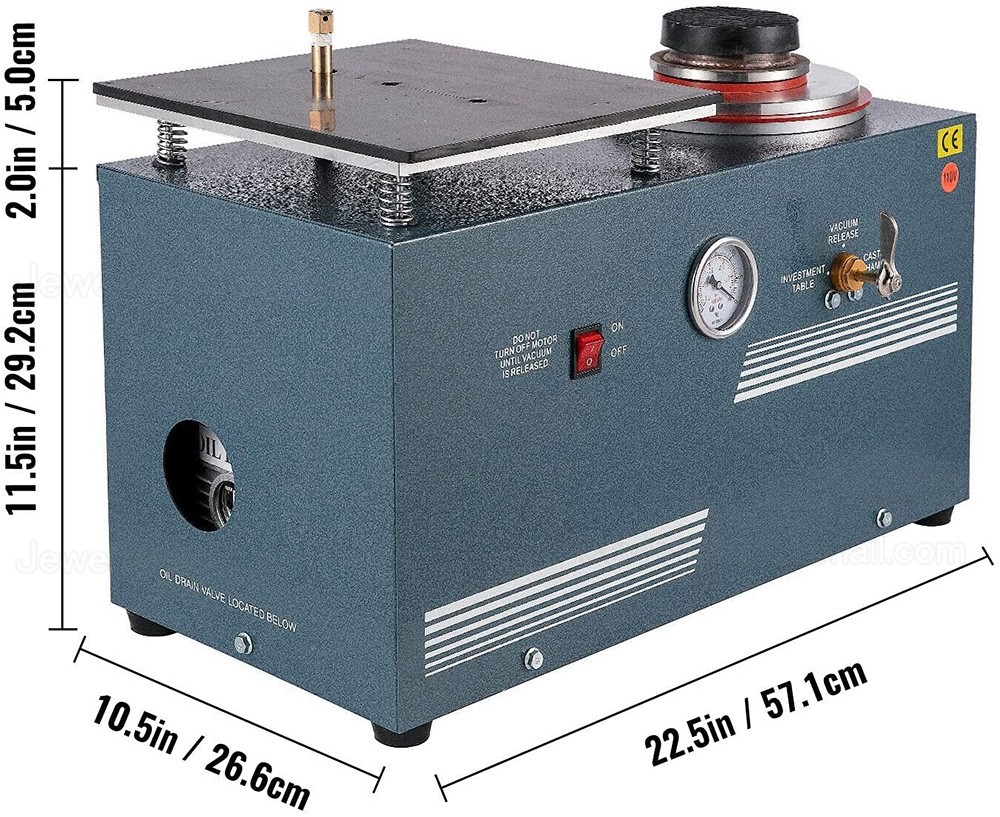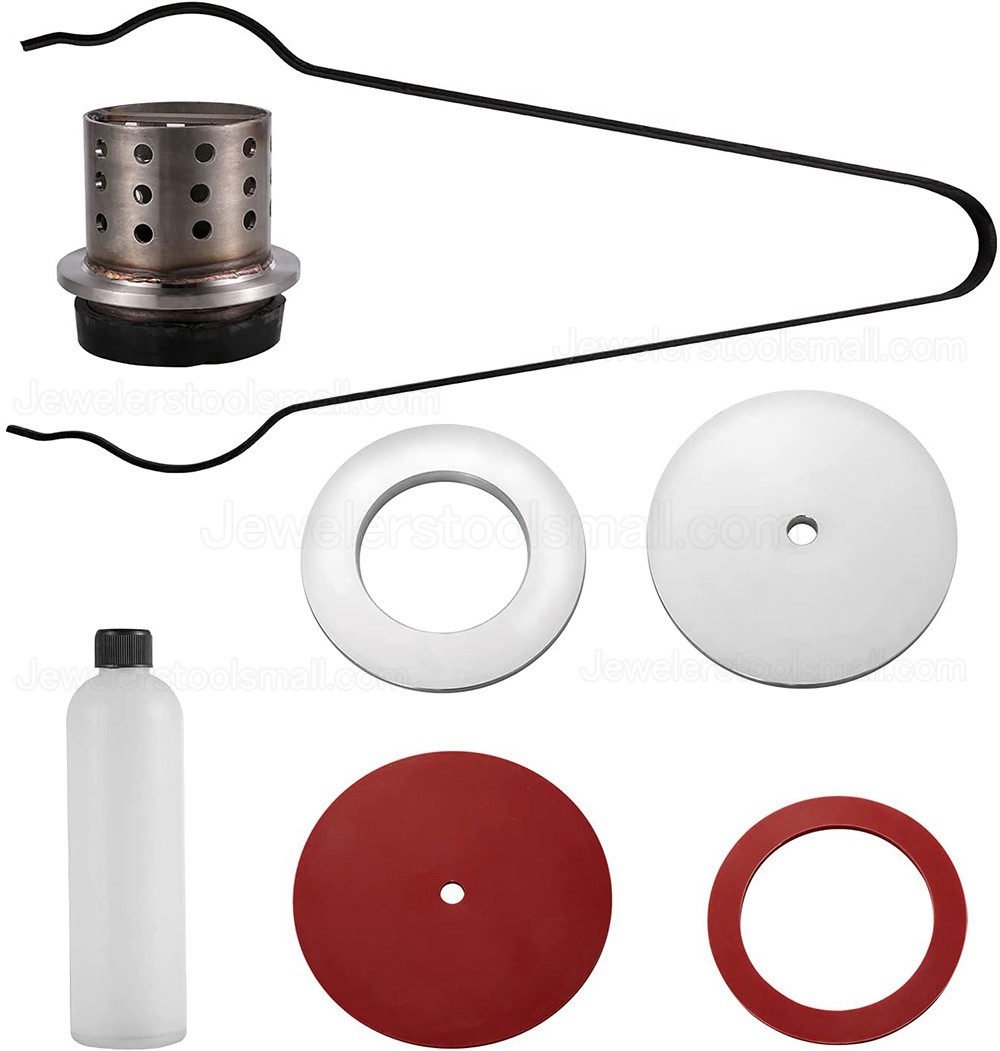 Jewelerstoolsmall.com supplies high-quality jewelry making tools for small and medium jewelers, goldsmiths, jewelry designers, refurbishers, jewellery repairers or hobbyists with fast global shipping and affordable price. If you have any questions or need help, please don't hesitate to contact us.
Nicobiro – 19 Apr 2022



Items are as described. Good products. Excellent Seller. Thank you!
Robert Chambers – 07 Mar 2022



I use the device for jewelry casting. It has worked well for my needs. The vacuum chamber/casting cylinder control valve is a little off the indicator marks, more like 45° not 90°.
Marcus Mera – 02 Mar 2022



Love this product Eliminates air pockets from molds. Vacuum casting is great & efficient get the job done
Administrator : Dear friend,
We are so happy to hear that and thank you so much for your support on our website. Any problem do free to contact us.
Best regards

Nate McVaugh – 14 Feb 2021



Where is the oil fill inlet cover and how to change out the oil, the instructions aren't clear.
Administrator : About how to fill the Vacuum Investing Casting Machine with oil:Open the rear cover of the machine, remove the yellow plastic screw and fill the oil slowly to ensure that the oil level reaches the maximum value. The oil level can be checked on the sight glass on the right side of the unit. Fill slowly until the oil level reaches the fill line on the sight glass. Important: do not use any oil other than vacuum pump oil. Do not add oil higher than the maximum line, otherwise the pump will leak oil during operation. Replace the oil filler plug before operating the machine.