30Pcs 3mm Titanium Diamond Coated Burs Jewelry Drill Bit Grit 120 Medium with 1/8 Inch Shank
NO.:
JWSM001673

4 reviews
|
Write a review
Latest price:
$27.94
Buy It Now:
$20.69
30Pcs 3mm Titanium Diamond Coated Burs Jewelry Drill Bit Grit 120 Medium with 1/8 Inch Shank
Description:
New one box set of 30 pieces diamond coated burrs with pointed heads in box set.
They will fit your hand drill, drill press & Compatible for Dremel and Foredom tool with a 1/8" collet. Shank diameter : 3.17mm (1/8 inch)
included 1/16" (1.59mm) diamond drill bits in a medium grit, for drilling glass, shells, tile and stone.
Overall length is 40mm to 50mm (1 5/8 inch to 2 inch) | There are some sphere, cylinder, bullet, or needle sharp. 1/8" (3.175mm) shank and 1 3/8" shank length. TITANIUM coated with PREMIUM grade diamond sand. Grit 120. More durable than the ordinary diamond coated burr. Suitable for use in grind the edge of glass, marble or rock. Come with the case as shown on picture with cover.
US-BASED CUSTOMER SERVICE: Available by chat, email, phone, or visit us at our customer service center in La Crosse, WI.


Package includes:
30 pcs/set Titanium Diamond Grinding.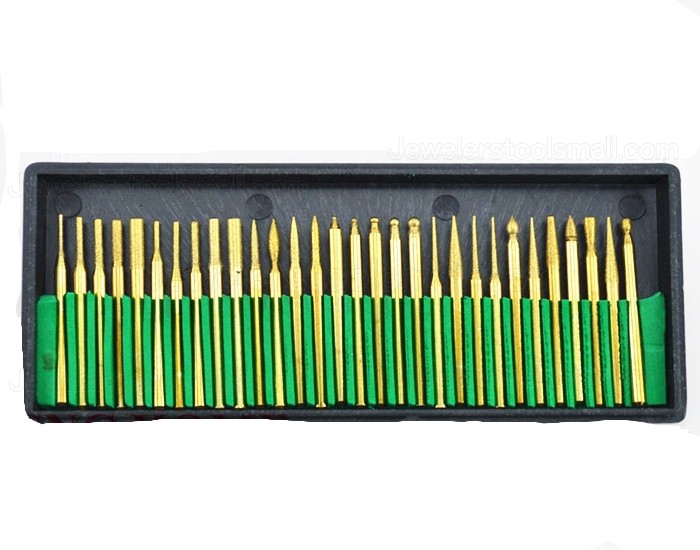 Jewelerstoolsmall.com supplies high-quality jewelry making tools for small and medium jewelers, goldsmiths, jewelry designers, refurbishers, jewellery repairers or hobbyists with fast global shipping and affordable price. If you have any questions or need help, please don't hesitate to contact us.
Brian Beebe – 28 Mar 2022



Great product well packaged and delivered on time
Don Bertling – 18 Feb 2021



I needed a very fine tipped rotating tool to open up the center of pop rivets to mount a metal racing logo.
These tools worked great with my proxxon rotating tool.
Just be careful to work slowly, I broke one tip by being aggressive.
Would buy again, Would Recommend!
Richard J Lazine Jr. – 16 Feb 2021



Fast delivery, product is as advertised.
Administrator : Dear friend, We are so happy to hear that and thank you so much for your support on our website. Any problem do free to contact us. Best regards
Mr.Renault – 12 Feb 2021



Bonsoir, J'ai bien reçu ma commande, elle satisfait pleinement mes attentes.
Administrator : Dear friend,
Thank you so much for your feedback. Please don't hesitate contact us if you have any questions.
Best regards