The Comparison Between Ultrasonic Jewelry Cleaner & Steam Cleaner
A proper maintenance and care routine is necessary to ensure that your jewelry stays in good condition. This can be hard as the many methods used to care for jewelry can be expensive and time-consuming. This task is no longer difficult thanks to modern technology. Two popular machines for cleaning jewelry are ultrasonic jewelry cleaners and steam cleaners. These machines are great because they allow you to clean your jewelry at-home, saving you time and money. Both machines are capable to clean your jewelry professionally but in different ways.


Ultrasonic Jewelry Cleaner
Ultrasonic jewelry cleaning uses high frequency sound waves. These ultrasonic sounds create microscopic bubbles which clean your jewelry. These cleaners aren't as harsh as the traditional methods of cleaning jewelry. All you need are some tap water along with a small amount water-soluble cleaning product.

Ultrasonic jewellery cleaners are ideal for cleaning jewelry made of precious metals like gold, platinum, and silver. They also clean hard gemstones like sapphires, diamonds, and so on. Many features can be found in ultrasonic jewel cleaners.



Jewelry steam cleaner
Jewelry steam cleaners use high pressure steam technology to remove dirt and grime. These cleaners are more eco-friendly that ultrasonics as they don't require any type of cleaning solution to work. While some manufacturers recommend pre-soaking jewelry , in fact it is not necessary. Jewellery steam cleaners can restore the shine and polish to your jewelry.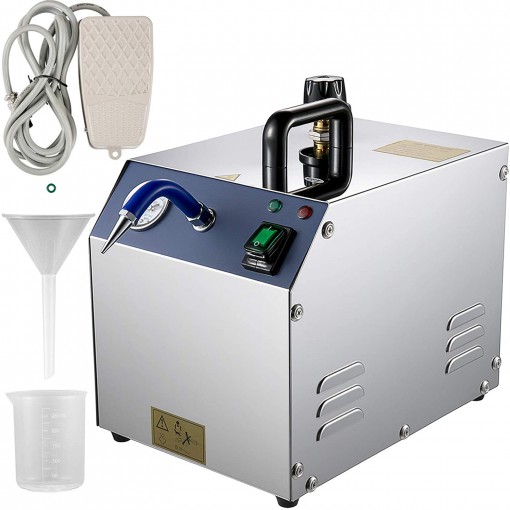 Which one should I choose?
It's a tricky question. It comes down to personal preference, and what factors are most important to you. Both machines excel in their respective fields, but each machine also has its weaknesses and strengths. This is why it can be beneficial to use both.


However, owning both machines can get quite expensive. If price is a concern for you and you don't have the budget to purchase one of these machines then I would recommend an ultrasonic jewellery cleaner. They can provide excellent results for half the price of jewelry steam cleaners. If price is not an issue and you want to give your jewelry the best cleaning, I recommend a jewelry steam cleaner.


It's clear that ultrasonic and steam jewelry cleaners are two of the most effective tools available for maintaining and cleaning jewelry. You can use either type of cleaner, but they will work in a different way. I hope this post has helped to distinguish some of the main advantages/disadvantages of both types of machines.
Previous:
Tips on How to Test Jewelry Vulcanizer
Next:
How to Choose a Propane Gold Melting Furnace in 5 Steps