The Function of Flex Shaft Motor Hanger
The flex shaft motor is essential. It's almost impossible to think about making jewelry without a flex shaft," says Travis. This "workhorse of a machine" can take the place of sandpaper, files, buffing materials, and other metalsmithing and metal finishing supplies–even polishing and lapidary machines.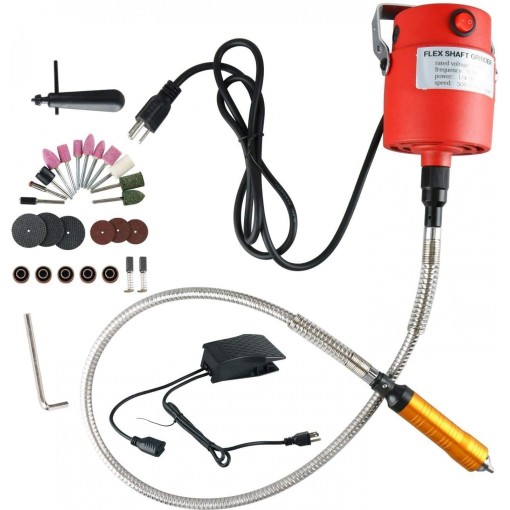 Grinding
Grinding (metal, stone, and wax): trim and remove metal from metal jewelry pieces; remove more metal faster than through subtler methods like sanding; grind away burs or nubs leftover from casting metal jewelry pieces and components.

Sanding
Sanding (metal and stone): refine and smooth away file or grinding marks and metal edges in smaller increments, without removing as much metal as grinding; round off prong points and wire ends for comfortable finished jewelry (ear wires!);

Carving
Carving (stone and wax): carve custom-shaped stones and cabochons to use in one-of-a-kind jewelry creations; your own agate burnishing tools to suit your custom needs; wax models for creating molds;

Cutting
Cutting (metal, stone, and wax): cut wire coils into jump rings; cut grooves in bezel walls or notches/seats in prongs that will hold a stone's girdle; freehand stone cutting; cut chunks or slices of stone off to work in smaller segments.

Drilling and Piercing
Flexible shaft grinder also can be used to drill and pierce (metal, stone, and wax): drill holes in metal, stone, and wax; pierce interior designs in both metal and stone (as well as wax molds) to create unique negative space, holes for bails, rivets and other cold connections, starter holes for sawing, open spaces in which to tube-set gems, etc.


Finishing and Polishing
Finishing, polishing, buffing (metal, stone, and wax): create a matte, satin, polished, or high-shine mirror finish on textured or smooth metal (including metal clay) and stone; burnish fired metal clay pieces from the chalky white post-kiln stage to a stain finish or high shine; remove firescale without damaging textured or smooth surfaces; finish and refine carved wax models to remove grinding and carving marks before the models are used to make rubber molds or in castings.
Previous:
How To Choose The Proper Jeweler's Microscope
Next:
Tips on Choosing A Better Microscope